TRUCK SLAMS INTO REVELERS IN NICE, DOZENS BELIEVED DEAD
NICE, France (AP) — NICE, France – A truck drove on to the sidewalk and plowed through a crowd of Bastille Day revelers who'd gathered to watch fireworks in the French resort city of Nice late Thursday in what officials and eyewitnesses described as a deliberate attack. Dozens of people appear to have been killed, officials said.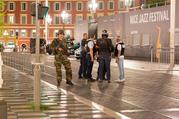 Sylvie Toffin, a press officer with the local prefecture, said that the truck "hit several people on a long trip" down the sidewalk near Nice's Palais de la Mediterranee, a building that fronts the beach. Wassim Bouhlel, a Nice native who spoke to the AP nearby, said that he saw a truck drive into the crowd.
"There was carnage on the road," Bouhlel said. "Bodies everywhere."
How many people have died is unclear, although the death toll appeared to be high and climbing. Calls to interior ministry and police officials were not returned. Images circulating on social media showed grisly scenes of piles of bodies in the street. The president of the Provence Alpes Côte d'Azur regional council, Christian Estrosi, said in a message posted to Twitter that dozens of people appear to have been killed.
Bouhlel said he witnessed the man emerge with a gun and start shooting, but Toffin said she that, "to my knowledge" there was no gunfire.
She confirmed the incident was deliberate.
"It's an attack," she said. She said she did not have casualty figures.
It was not immediately clear who would have been behind the attack, but France has recently seen a spate of dramatic assaults from by jihadist groups, including the Islamic State group which straddles Iraq and Syria.