Top 10 News Stories of 2013
The execution of North Korea's No. 2 man Jang Song-thaek and fumbled debut of the Affordable Care Act, dubbed Obamacare, were chosen as the top national and world news stories of 2013 respectively, according to the annual poll of editors at The Korea Times.
Here are their top 10 stories, in order:
Domestic
1. Execution of Jang Song-thaek
2. President Park takes office
3. NIS tweeting scandal
4. No leniency for chaebol
5. Air defense zone expanded
6. F-35 fighter jets picked
7. Rep. Lee Seok-ki arrested
8. Court ruling on wages
9. Ryu, Son become world stars
10. 8th straight World Cup finals
Execution of Jang Song-thaek:
North Korea executed Jang Song-thaek, the formerly second most powerful man in the country, on charges of treason and corruption. With the execution of his uncle and regent, Kim Jong-un is seen as having further consolidated his grip on power that he assumed two years ago.
President Park takes office:
President Park Geun-hye took office on Feb. 25, becoming the nation's first female leader. In her inauguration speech, she pledged to make people happier, create more jobs through the pursuit of a "creative economy," and promote cultural policies. She has sternly reacted to North Korea and illegal labor activities. However, she has yet to deliver on her promise.
NIS tweeting scandal:
The National Intelligence Service's alleged intervention in the presidential election last year to launch a smear campaign against opposition candidates has pitted the ruling Saenuri Party and opposition Democratic Party over the past year. The opposition has demanded a special probe of the spy agency scandal over the past year. But President Park Geun-hye and the ruling party have snubbed the demand.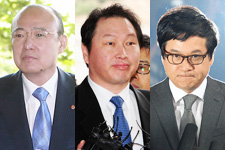 No leniency for chaebol:
The year 2013 would be the most severe time for chaebol owners, as they received harsher-than-expected sentences. This signals that the Korean judiciary will show no leniency toward them, whatever contribution they have made to the national economy. They include Hanwha Group chairman Kim Seung-youn, SK Group Chairman Chey Tae-won, CJ Group Lee Jae-hyun and LIG Group Koo Cha-won.
Air defense zone expanded:
The government announced on Dec. 8 that it was expanding its air defense identification zone (ADIZ) to include a submerged reef called Ieodo. Korea controls the reef where it has a maritime research station. But China also claims it. The Korean government's expansion of the air patrol zone came days after China unilaterally expanded its own air patrol zone to partly overlap with Korea's and include airspace over the reef.
F-35 fighter picked: 
The South Korean government said on Nov. 22 that it will buy 40 Lockheed Martin F-35 stealth fighter jets for its next generation fighter jet program. Initially, only Boeing's F-15 fighter met the price target set by the Korean government. However, the government redid a complicated acquisition process and tentatively decided to buy 40 F-35 jets. An additional 20 jets it will acquire could be different models.
Rep. Lee Seok-ki arrested:
Lee Seok-ki, a member of minor leftist United Progressive Party, was arrested after the National Assembly approved a motion to detain him on charges of treason in September. The ruling Saenuri Party is seeking to unseat the lawmaker and the government has filed a petition with the Constitutional Court to dissemble the minor party.
Court ruling on wages:
In a local case, the Supreme Court ruled in December regularly-paid bonuses should be included as normal wages, which will drive up retirement allowances and other work-related payments particularly for the auto and other labor-intensive industries. The ruling is encouraging labor unions to claim overdue salaries through lawsuits, while employers are seeking legal advice to avoid such a legal battle.
8th straight World Cup finals:
Despite uninspiring play during its qualifying campaign, Korea still advanced to the World Cup finals in Brazil next year, making its eighth consecutive appearance on the biggest stage in world sports. After the qualifying campaign, the Korean Football Association moved boldly to replace manager Choi Kang-hee with Hong Myung-bo, the former star player who displayed his coaching skills by leading the Korean Olympic team to a bronze-medal finish at the London Olympics.
Ryu, Son become world stars:
The impressive rookie season of Los Angeles Dodgers starter Ryu Hyun-jin and the prolific scoring rate of Bundesliga standout Son Heung-min highlighted an impressive year for Korean athletes on the world stage. Choo Shin-soo, Korea's other major leaguer, had a big contract year. Park In-bee became the first South Korean to earn the LPGA Tour's Player of the Year after winning six tournaments. Figure skater Kim Yun-na won the Golden Spin of Zagreb event in Croatia in December.
International
1. Fumbled launch of Obamacare
2. Death of Mandela
3. Snowden's leak of NSA secrets
4. Island disputes in Asian seas
5. Abe's hawkish nationalist moves
6. Xi becomes China's leader
7. Typhoon Haiyan hits Philippines
8. Boston Marathon bombings
9. Syrian civil war
10. Egypt's political chaos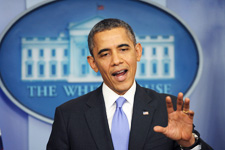 Fumbled launch of Obamacare:
The Obama administration had high hopes for its health-care reform package dubbed "Obamacare," but technical glitches on the federal government's HealthCare.gov portal put the brakes on all that. The website became a symbol of dysfunction and in October, a partial shutdown of the federal government annoyed many Americans and dented an already weak economy.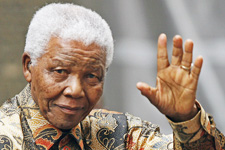 Death of Mandela:
Former South African President Nelson Mandela died aged 95 in Johannesburg, Dec. 5 and was buried in his home village of Qunu following 10 days of emotion-charged mourning in South Africa. Mandela, South Africa's first black president and its "greatest son," led his country out of apartheid and became a hero to millions around the world.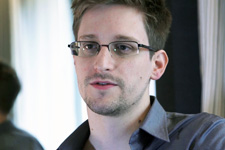 Snowden's leak of NSA secrets:
The former Central Intelligence Agency (CIA) employee and former National Security Agency (NSA) contractor leaked details of the U.S. NSA's global surveillance activities to the media. Considered one of the most major leaks in history, it revealed, among other things, the extent of the U.S. spying on its allies. Dozens of revelations followed and the Obama administration was obliged to declassify information.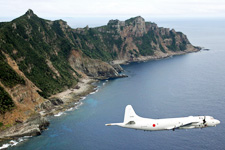 Island disputes in Asia:
Asia's two largest economies are locked in a fractious spat over the sovereignty of a small chain of islands in the East China Sea. The case has taken on a greater urgency since China's declaration last month of an Air Defence Identification Zone (ADIZ) over the East China Sea — including the contested archipelago. China also claims almost in the South China Sea. The Philippines, Vietnam, Malaysia and Brunei have competing claims to parts of the sea.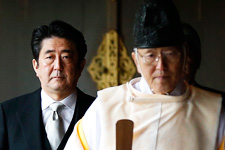 Abe's nationalist move:
Abe became Japan's first leader to visit the Yasukuni Shrine in nearly eight years to mark the first anniversary of his second premiership. It instantly incited strong condemnation from Korea and China. It is no secret that Abe is at heart a right-wing nationalist. Throughout his political career, he has called for the overturning of Japan's postwar pacifist Constitution. The hawkish prime minister has been paving the way for Japan to "escape from the postwar regime."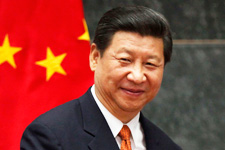 Xi becomes China's leader:
Xi Jinping was named the leader of China's ruling Communist Party, confirming his widely expected ascent to the paramount leadership in the world's No. 2 economy and most populous nation. China's leadership saw the most significant changes in the Communist Party's history this five-year term, as the seven out of the former nine Standing Committee members had to retire under the mandatory retirement age for the top leaders.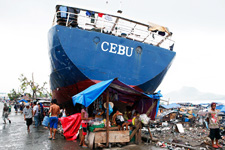 Typhoon Haiyan hits Philippines:
One of the strongest storms on record battered the Philippines on Nov. 8, bringing strong winds and heavy rains that levelled entire parts of the coastal city of Tacloban. Super Typhoon Haiyan killed more than 6,100 people, displaced at least 4 million others.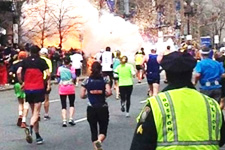 Boston Marathon bombings:
On April 15, two pressure cooker bombs exploded near the finish line of the Boston Marathon, killing three people and injuring more than 260 others. Authorities soon identified two suspects — 26-year-old Tamerlan Tsarnaev, who died in a shootout with police, and his brother, Dzhokhar, 20.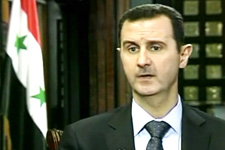 Syrian civil war:
Fueled by the Arab Spring, Syrian protests have devolved into a brutal civil war with more than 2 million refugees and 120,000 others killed. An investigation by the United Nations after an attack in August confirmed chemical weapons, including sarin which the country had agreed to prohibit in 1993, had been used in the Syrian civil war. The U.S. and Russia announced a deal that would get rid of Syria's weapons stockpiles by mid-2014 in the following month.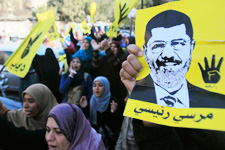 Egypt's political chaos:
The wave of bombings and targeted assassinations has swept Egypt since August. Egypt is bracing for more violence ahead of an upcoming referendum on a new constitution drafted after Morsi's fall as his supporters argue that the amendments made to the 2012 charter are against all constitutional articles related to the country's Islamic identity and values. The interim government in Egypt took power after Morsi was ousted by the army on July 3.