3 Nobel Laureates to Teach at SNU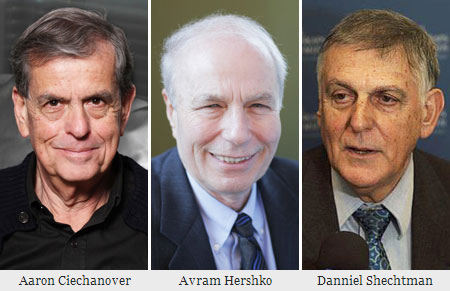 By Bahk Eun-ji
Three Nobel laureates will teach at Seoul National University (SNU) for two years from the first semester of the next academic year, the state-run school said Friday.
SNU said Professors Aaron Ciechanover, 66, and Avram Hershko, 76, who won the prize in chemistry in 2004, will teach at the College of Medicine.
Professor Danniel Shechtman, 72, who was awarded the prize in chemistry in 2011, will teach physics and astronomy courses at the school.
Ciechanover and Hershko won the prize together with Irwin A. Rose, an American biologist for characterizing the method that cells use to degrade and recycle proteins using ubiquitin.
"The two professors will give lectures from next year and will also do research," said Kwon Yong-tae, a professor at the school.
The school will establish a "Protein metabolism research and development center" in order to facilitate research with the two professors, he added.
Prof. Shechtman, who won the prize for the discovery of quasicrystals, will teach for one semester from March, 2014. His discovery of quasicrystals has fundamentally altered how chemists conceive solid matter.
SNU has set aside 1 billion won to hire renowned scholars worldwide as part of a plan to become one of the world's leading research-oriented universities.
In line with it, the school hired Professor Thomas Sargent, 70, an American economicst who won the Nobel Prize in Economic Science in 2011 last year. Sargent has been teaching macroeconomics since the second semester of 2012.