THE LATEST: POLICE CHIEF CALLS ON US SWIMMERS TO APOLOGIZE
RIO DE JANEIRO (AP) — The Latest on the 2016 Summer Olympics in Rio de Janeiro (all times local):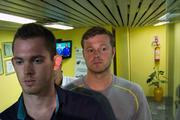 5:25 p.m.
A top Brazil police official has called on Ryan Lochte and three other American swimmers to apologize after some of the athletes claimed they were victims of an armed robbery.
Civil Police Chief Fernando Veloso says the four men became rowdy while at a gas station early Sunday after a night of partying. He says they were inebriated, and broke down the door of a bathroom, a soap dispenser and a mirror.
Veloso told a Thursday news conference that "no robbery was committed against these athletes. They were not victims of the crimes they claimed." He said there was confusion because people at the gas station didn't speak English and the athletes didn't speak Portuguese.
Lochte had said he was with the other swimmers when they were robbed at gunpoint early Sunday in a taxi by men with a police badge as they returned to the athletes village from a party.
Veloso says the four should apologize because "Rio residents saw the name of their city sullied."
—
5:10 p.m.
Alba Torrens and Astou Ndour each scored 14 points as Spain defeated Serbia 68-54 Thursday and assured its first Olympic medal ever advancing to the women's basketball final.
Spain will play for the gold medal Saturday, but being guaranteed at least the silver sparked a postgame celebration. Spain, which missed the 2012 Olympics, will play either the U.S. or France. In group play, Spain lost by 40 to the heavily favored Americans.
The Spaniards were barely able to contain their excitement as the final minutes ticked off the clock, dancing and hugging before running onto the court to celebrate. They posed for group photos after the buzzer; about the only thing they didn't do was cut down the nets.
Spain had Serbia frustrated most the game. Late in the third quarter Sonja Petrovic's pass went off a teammate's hands out of bounds. Petrovic kicked the Rio 2016 boxes bordering the court along the baseline – smashing one into pieces.
—
5 p.m.
UPSET ALERT: The top two men's seeds at the Rio Olympics taekwondo competition have been knocked out of the fight for a gold medal.
Turkey's defending Olympic taekwondo champion Servet Tazegul was beaten 19-6 by Russia's Alexey Denisenko in their quarterfinal on Thursday afternoon in the men's 68-kilogram division.
Tazegul cruised through his first fight of the morning, with a steady stream of spinning kicks that overwhelmed his opponent. But against Denisenko, the strategy was too risky; almost every time Tazegul tried to spin, Denisenko used an effective counter-attack.
Second-seeded Dae-Hoon Lee of South Korea went out shortly afterward, in a closely fought battle with Jordan's Ahmad Abughaush. Abughaush scored early and never relinquished the lead. Lee smiled and raised Abughaush's arm in victory after the result was announced.
Both Tazegul and Lee might have the chance to fight in the repechage competition for a bronze medal Thursday evening.
—
5 p.m.
The French women's handball team has secured its first ever Olympic medal after beating the Netherlands 24-23 in the semifinals Thursday.
Overwhelming crowd support and the presence of Dutch King Willem-Alexander couldn't lift the Netherlands, who spent most of the game narrowly behind.
A nail-biting finish saw a big save from French goalkeeper Laura Glauser as her team tried to hold on for the win on a Dutch power-play. On the final whistle, the French team embraced on court and jumped up and down in front of their fans.
Laura van der Heijden was the top scorer for the Dutch with eight goals, while Allison Pineau led France with seven. The tournament's joint top-scorer Alexandra Lacrabere had six.
The French will play either Russia or Olympic champion Norway in Saturday's final.
—
4:45 p.m.
A top Brazilian police official says Ryan Lochte and three other American swimmers were not the victims of a robbery as some of the athletes had claimed.
Civil Police Chief Fernando Veloso says the four men became rowdy while at a gas station early Sunday after a night of partying. He says they were inebriated, and broke down the door of a bathroom, a soap dispenser and a mirror.
Veloso told a Thursday news conference that "no robbery was committed against these athletes. They were not victims of the crimes they claimed."
Veloso says police had interviewed the taxi driver with the men that night and two security guards who confronted them at the bathroom.
He did not say whether the guards pulled their guns on the swimmers but says investigators had found no excessive use of force. An official who spoke on condition of anonymity because the investigation was ongoing told The Associated Press earlier Thursday that two security guards pointed guns at the swimmers.
—
4:30 p.m.
Ashton Eaton has increased his lead to 124 points with only the javelin and 1,500-meters to go and is on track to defend his Olympic decathlon title.
The 28-year-old American, who won last year's world championship with a world-record setting 9,045 points, has 7,370 points after eight disciplines. He cleared 5.20 meters in a 2 ½ -hour pole vault section on Thursday afternoon, the third-best mark in the event.
Kevin Mayer of France cleared 5.40 in the pole vault to overtake world championship silver medalist Damian Warner in second place. He has 7,246 points, 142 clear of the Canadian.
Kai Kazmirek of Germany is fourth, 333 points behind with two events remaining.
—
4:15 p.m.
MEDAL ALERT: Cuban boxer Julio Cesar La Cruz has defeated Kazakhstan's Adilbek Niyazymbetov to win the light heavyweight gold medal.
La Cruz is the first Cuban to win a light heavyweight medal. He already had secured Cuba's first medal in the weight class since 1980.
La Cruz taunted and toyed with Niyazymbetov in the third round in his unanimous decision victory. La Cruz won 29-28 on all three scorecards.
He bowed to fans on all four sides of the ring.
Niyazymbetov was also a silver medalist at the 2012 London Olympics. Britain's Joshua Buatasi and France's Mathieu Bauderlique won bronze.
La Cruz won gold 2½ years after he was shot in his home province of Camaguey.
—
4 p.m.
MEDAL ALERT: Brazil's Martine Grael and Kahena Kunze have won the women's 49erFX gold medal in a dramatic finish to the Rio Games sailing regatta.
The duo won Brazil's only medal in the Olympic regatta, taking the lead from New Zealand's Alex Maloney and Molly Meech late in the medal race Thursday and holding off the Kiwis by two seconds.
Grael is the daughter of Torben Grael, who counts two golds among his five Olympic sailing medals.
Martine Grael and Kunze hugged right after the finish and tumbled into Guanabara Bay. They then capsized their boat.
Denmark's Jena Hansen and Katja Steen Salskov-Iversen won the bronze.
—
4 p.m.
Inbee Park of South Korea finished with two straight birdies for another 5-under 66 and the 36-hole lead in women's golf.
Park is the most decorated major champion at Olympic Golf Course, though she has been largely forgotten this year because of a thumb injury that caused her skip the last two majors. But she has shown up in a big way in golf's return at the Olympics.
Park was at 10-under 132 and had a one-shot lead over Stacy Lewis, who had 11 birdies in her round of 63. Another shot behind was Charley Hull of England.
Park has dodged questions about whether retirement is near, though she has said an Olympic gold medal would be her greatest achievement.
The surprise at the halfway point is Aditi Ashok, the 18-year-old from India who is only four shots behind.
—
4 p.m.
FAILED TO QUALIFY: Two-time defending BMX gold medalist Maris Strombergs of Latvia and reigning world champion Joris Daudet of France aren't moving on at the Summer Olympics.
Their hopes were dashed during a wreck-filled and windy afternoon of quarterfinals at the track in Rio.
Strombergs' sixth-place finish in the first heat hurt his chances after he fell off the bike during a crash that also involved Switzerland's David Graf and Britain's Liam Phillips.
Strombergs' coach says the wind was partly a factor. Strombergs and his coach initially thought they had advanced to the semifinals Friday before learning their run was over.
Daudet didn't finish his second heat after a crash near the second turn. He started the third heat but quickly fell back and pedaled the rest of the way, well out of contention.
Daudet was favoring his left arm after the race.
—
3:35 p.m.
A law enforcement official is telling The Associated Press that two security guards pointed guns at Ryan Lochte and three other swimmers during a dispute at a gas station.
The change in the version of events came after police interviewed one of the security guards on Thursday. It further deepened the mystery of what truly happened inside the station and set off an international dispute.
The official, who has direct knowledge of the investigation, spoke on the condition of anonymity Thursday because he was not authorized to speak about an ongoing probe.
The official said the swimmers broke the bathroom door and the soap dispenser inside. Security footage from inside the station shows the swimmers vandalizing the bathroom.
The official said workers at the gas station went to see what the commotion was about. At that point, a security guard also came and confronted the swimmers, and pointed a gun. A second guard came behind him and pointed another gun.
Brazilian police previously said no gun was pointed at the swimmers.
(Information from Associated Press writer Mauricio Savarese.)
—
3:10 p.m.
UPSET ALERT: Serbia has stunned the top-ranked U.S. women's volleyball team that was chasing its first ever Olympic gold.
With star player Foluke Akinradewo injured early, the Americans came back from a 2-1 deficit to force a fifth set before falling 15-13.
Serbia won 20-25, 25-17, 25-21, 16-25, 15-13 on Thursday – handing the U.S. its first defeat in Rio.
Akinradewo's teammates took over after she hurt her left knee late in the opening set.
With two-time defending Olympic champion Brazil also ousted in a five-setter by China in the quarterfinals, Serbia will now face either the young Chinese squad led by former U.S. coach Jenny Lang Ping or the surprising Netherlands team, which is back in the Olympic volleyball competition for the first time in 20 years.
—
3:10 p.m.
MEDAL ALERT: Peter Burling and Blair Tuke capped a dominant four years of sailing by winning the medal race in the men's 49er class at the Rio Games to confirm the gold they'd clinched two days ago.
The Kiwis upgraded the silver they won at London in 2012.
Showing just how much better they are than the rest of the fleet, the Kiwis sailed a tactically perfect final race, leading the whole way. They put their arms around each other and clenched their fists in triumph just before crossing the line, and then capsized their boat in celebration.
Defending gold medalists Nathan Outteridge and Iain Jensen of Australia took the silver. They sail for Sweden's Artemis Racing in the America's Cup.
Bronze went to Germany's Erik Heil and Thomas Ploessel. They both jumped into the water in celebration, and tipped their boat over. Last year, Heil was treated for infections he blamed on the polluted water in Guanabara Bay.
—
2:45 p.m.
The International Canoe Federation says canoe sprint bronze medalist Serghei Tarnovschi of Moldova has been suspended after failing a pre-competition doping test.
The 19-year-old Tarnovschi placed third in the 1,000 meters canoe single final Tuesday and was due to compete in the 1,000 meters double on Friday with his older brother Oleg.
The ICF said he would "now no longer be eligible and will face provisional suspension" under anti-doping rules.
—
2:55 p.m.
Two-time Olympic pole vault champion Yelena Isinbayeva has been elected as an athletes' representative on the IOC.
Isinbayeva was one of four candidates elected to the International Olympic Committee's athletes' commission. She was elected to an eight-year term in a vote by athletes in the Olympic Village.
Isinbayeva and 66 other Russian track and field athletes were barred from the Rio Games by the IAAF following allegations of state-sponsored doping in Russia. She appealed but failed to overturn the ruling.
Isinbayeva, the world record-holder in the women's pole vault, won gold medals at the 2004 Athens Olympics and 2008 Beijing Games. She took bronze four years ago in London.
The three other athletes elected to the IOC were Daniel Gyurta of Hungary, Britta Heidemann of Germany and Ryu Seung-min of South Korea.
—
2:50 p.m.
MEDAL ALERT: Sime Fantela and Igor Marenic of Croatia have won the gold medal in the men's 470 class in the Rio Games sailing regatta.
Thursday's win is the first sailing gold medal for Croatia. Tonci Stipanovic won Croatia's first ever sailing medal two days earlier when he took the silver in the Laser class.
The Croatians came into the medal race with an 11-pont lead and finished eighth among the 10 boats for a final 15-point margin.
Australia's Mathew Belcher and Will Ryan took the silver after a tight battle against Greece's Panagiotis Mantis and Pavlos Kagialis, who got the bronze.
Belcher won the gold medal in London four years ago with Malcolm Page, who then retired from Olympic sailing.
—
2:30 p.m.
MEDAL ALERT: Misaki Matsutomo and Ayaka Takahashi of Japan have won gold in women's badminton doubles against Denmark's Christinna Pedersen and Kamilla Rytter Juhl.
The Japanese battled back Thursday from a late deficit in the deciding game to win the match 2-1.
Carolina Marin of Spain earlier beat Li Xuerui, the defending Olympic champion from China, to advance to the gold medal singles match against P.V. Sindhu of India.
Marin is world No. 1 but her win is significant because China had been badminton's powerhouse, sweeping all five badminton gold medals at the 2012 London Games. Li's gold was a big part of that dominance. Li will play Japan's Nozomi Okuhara for bronze.