THE LATEST: PGA OF AMERICA NOT MOVING 2017 TOURNAMENT
SPRINGFIELD, N.J. (AP) — The Latest on the PGA Championship (all times EDT):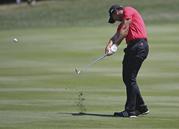 2:30 p.m.
The PGA of America has no plans to move next year's championship out of Charlotte despite the North Carolina law limiting protections for LGBT people.
The tournament is scheduled for Quail Hollow, a regular spring stop on the PGA Tour.
PGA of America CEO Pete Bevacqua reiterated his organization's opposition to the law on Wednesday, but made it clear the PGA Championship would remain at the course.
"We are trying to do everything we can, as part of our strategic plan for our organization in golf, to make the game as inclusive as possible," Bevacqua says.
"We can only control so much. We can't control the policies, the rules and the regulations around the country and municipalities and states. We can only do what we can do. And we'll try to make that PGA Championship, like we do every PGA Championship, enjoyable, inclusive, and shine a great light on our organization and the game of golf."
Asked how the NBA's decision to move its All-Star Game out of Charlotte next year affects the PGA, Bevacqua adds:
"Of course we took notice of the NBA's decision, and you know, we came out with a statement shortly thereafter. … We'll continue to be vocal about our opposition. And quite frankly, we really hope it changes."
1:50 p.m.
European captain Darren Clarke has tapped Sam Torrance as his fifth and final vice captain for the Ryder Cup.
Torrance was the winning captain at The Belfry in 2002. He played on eight European teams, and he won the clinching point in 1985 when Europe beat the Americans for the first time since between 1981 and 1995. He might be most famous for raising both arms in triumph when Europe won in 1985 for the first time since 1957.
Clarke's other vice captains are Padraig Harrington, Thomas Bjorn, Ian Poulter and Paul Lawrie.
The matches are Sept. 30 to Oct. 2 at Hazeltine in Minnesota. Europe will be going after its fourth straight victory.
—
12:05 p.m.
Defending champion Jason Day got his first look at Baltusrol on Wednesday – one day before the start of the PGA Championship.
Day is an example of how the Olympics have crowded the golf schedule this year. He went from the British Open to Toronto to defend his title in the Canadian Open, and now he plays the final major of the year.
The world's No. 1 player decided to take Monday off to conserve his energy, and then he missed Tuesday because he was sick. Day typically gets to a major venue the weekend before.
The 28-year-old Australian is trying to join Tiger Woods as the only back-to-back winners of the PGA Championship in stroke play.