THE LATEST: DEMOCRATIC LUMINARIES TO NOMINATE CLINTON
PHILADELPHIA (AP) — The Latest on the Democratic National Convention (all times EDT):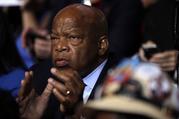 3:01 p.m.
Hillary Clinton's campaign says several party luminaries will formally put forth her name as the first woman ever to win a major party's presidential nomination.
Among those set to nominate the former secretary of state Tuesday are Maryland Sen. Barbara Mikulski, civil rights activist and Georgia Rep. John Lewis and Iraq war veteran Na'ilah Amaru.
The statement said that the list of nominators will include "people who know her best and who have seen her dedication and commitment to delivering real results for families."
A roll call at the Democratic National Convention in Philadelphia later Tuesday is expected to end with Clinton being named the first female presidential nominee of a major U.S. party.
—
2:49 p.m.
Tim Kaine's wife has resigned as Virginia's Secretary of Education.
Virginia Gov. Terry McAuliffe's office announced Tuesday that Anne Holton stepped down from the cabinet-level post because her husband had been picked to be Hillary Clinton's running mate.
McAuliffe said Holton's resignation was effective Monday.
—
2:44 p.m.
Jim Hightower, a former Texas agriculture commissioner and a Sanders delegate, says both he and former NAACP president Ben Jealous have been asked by other Sanders delegates about being nominated for vice president on the floor. Hightower says both he and Jealous have declined.
Virginia Sen. Tim Kaine is Hillary Clinton's running mate and will be formally nominated at the convention.
Some Sanders delegates say that Kaine is too centrist and have been discussing ways to register their unhappiness, including talk of turning their backs during Kaine's speech.
Hightower says he has also heard of talk of a public demonstration on the convention floor in opposition to the Trans-Pacific Partnership trade deal.
—
2:10 p.m.
An organizer of the Bernie Delegate Network is predicting less disruption from Sanders delegates during the roll call vote later Tuesday.
Karen Bernal helps lead the loose organization of 1,200 delegates. She expects a "different tenor" compared to Monday and says delegates are focused on having a full roll call so their votes are expressed.
The group had threatened to walk out if there is a motion to nominate by acclamation – or unanimous vote.
But Bernal says there probably won't be rowdy protests if the motion is made after a full roll call vote.
She says, "It's not going to be a rollicking day like yesterday."
Bernal says she is reserving options for later in the week, when both Clinton and her VP pick, Tim Kaine, address the convention.
—
2:00 p.m.
The longest-serving woman in Congress told Maryland delegates on Tuesday that she will formally submit Hillary Clinton's name as the Democratic nominee for president.
Sen. Barbara Mikulski's spokeswoman, Rachel MacKnight, said the senator will give a brief speech and introduce Clinton's name before the roll call of the states Tuesday evening.
A longtime Clinton friend, Mikulski is retiring after her fifth six-year Senate term. She was first elected to the House in 1977.
—
1:36 p.m.
Julianne Moore, Bryan Cranston, Kerry Washington, Mark Ruffalo, Neil Patrick Harris, Lena Dunham, Shonda Rhimes, and Macklemore are among more than 100 celebrities joining a campaign to urge Americans to deny Donald Trump the presidency.
The campaign is part of MoveOn.org Political Action's #UnitedAgainstHate campaign.
An open letter on the group's web site says that the group will try to, "bring attention to the dangers of a Trump presidency, and to the real and present threats of his candidacy."
The letter adds that Trump wants to take the country back to a time when "when fear excused violence, when greed fueled discrimination, and when the state wrote prejudice against marginalized communities into law."
Among the communities it says Trump has attacked: Mexicans and Latinos, blacks, LGBTQ, women, Asians, refugees and people with disabilities.
—
1:25 p.m.
After a rowdy first night of the Democratic National Convention, Bernie Sanders drew some boos himself as he addressed California delegates Tuesday.
A handful of supporters booed Sanders at a delegate breakfast, said Holly Mitchell, a state lawmaker from Los Angeles, who is a Clinton delegate. She said it was a small number in the large delegation.
According to Mitchell, Sanders told the people to boo if they wanted, but to vote for the future of their children.
—
1:01 p.m.
House Speaker Paul Ryan is vigorously defending the role of NATO and the United States's role leading free trade agreements. That's a break from positions taken by Republican presidential nominee Donald Trump.
Ryan called NATO an "indispensable ally" during a luncheon Tuesday hosted by the political website Wispolitics.com. Trump caused alarms last week when he suggested the United States might abandon its NATO military commitments if he were elected president.
But Ryan says he believes NATO "is as important now as I would say it is in my lifetime."
Ryan also says he also believes healthy trade helps to combat terrorism, and he wants the U.S. to lead in entering free trade agreements.
Trump has made his opposition to trade agreements the centerpiece of his economic argument.
—
12:06 p.m.
Tensions boiled over at the Texas delegation breakfast, after Russell Lytle, a Bernie Sanders delegate from Denton, took the stage and suggested condemning "our currently presumptive nominee."
A shouting match ensued including calls of "grow up!" It took several minutes for Hillary Clinton supporters to calm things down.
Lytle later released a hand-signed statement saying that in a moment of "passion," he voiced thoughts that did not reflect his intention of "promoting productive dialogue."
Rafael Anchia, a state lawmaker from Dallas and Clinton superdelegate, shrugged off the chaotic scene as normal for conventions.
Anchia said he expects all this to be forgotten by the end of the week. "In the end, the old proverb of 'the enemy of my enemy is my friend' will prevail," he said.
—
12:05 p.m.
Democratic Senate campaign officials say they're talking with Bernie Sanders about how he can help their efforts to retake the Senate majority this fall.
Sanders has already sent out a fundraising plea on behalf of Wisconsin Democrat Russ Feingold.
Christie Roberts, political director of the Democratic Senatorial Campaign Committee, says Sanders' message of "economic populism" will resonate in Wisconsin – one of Democrats' top pick-up opportunities – against incumbent Republican Ron Johnson.
Sanders' message might not play as well in other states with competitive Senate races like Ohio, Pennsylvania and New Hampshire.
But Democratic strategists say Sanders could be helpful around the country talking about middle-class economic issues.
The DSCC is talking with Sanders "to see how he can help and where he can be helpful," says spokeswoman Sadie Weiner.
—
11:20 a.m.
New Jersey Sen. Cory Booker says he prays for Republican presidential nominee Donald Trump.
After Booker's speech to the Democratic convention Monday night, Trump tweeted that if Booker is the future of the Democratic Party, it has no future. He also said he knows "more about Cory than he knows about himself."
Booker said on CNN Tuesday that he doesn't want to answer Trump's "hate with hate," and wants to "answer it with love."
He says he doesn't want Trump to enter the White House "to be spewing that kind of mean-spirited hate that doesn't even belong in a playground sandbox."
Booker says that he will continue attacking Trump's policies on the campaign trail for Hillary Clinton.
—
11:00 a.m.
Bernie Sanders supporters haven't agreed on whether to fall in step with Democrat Hillary Clinton or flaunt their opposition at the convention.
Walt Dixie, a Bernie Sanders delegate from Syracuse, New York, says many Sanders supporters worked too hard to easily switch their allegiance to Hillary Clinton, but he believes many or most will make the transition. He said Democrats "can't afford a wasted vote."
But Sanders delegate Jeff Day of Delaware predicts an even more raucous response Tuesday night from Sanders' supporters. Day said booing is one way in which those committed to Sanders can show their irritation at being treated dismissively by Clinton's people.
—
10:37 a.m.
Clinton campaign chairman John Podesta says there was no evidence the Democratic presidential campaign has been breached by the same hack that revealed Democratic National Committee emails to WikiLeaks.
He's telling a Bloomberg Politics breakfast that the campaign feels like it has "robust security" and has received no indication by the FBI that their correspondence is at risk.
—
10:27 a.m.
Republican Donald Trump is receiving an enthusiastic response from veterans as he criticizes Democrats and vows to reform the Department of Veterans Affairs.
Trump is telling veterans gathered at the annual convention of the Veterans of Foreign Wars in Charlotte that: "Our politicians have totally failed you."
He is criticizing rival Hillary Clinton and the Democrats gathered in Philadelphia at their national convention for failing to mention Islamic State militants during their convention's first day. He says that "they really established ISIS. Because of weakness."
Clinton on Monday spoke at the same gathering and offered a scathing critique of Trump's foreign policy, casting him as too reckless to serve as the country's commander in chief.
But when Trump mentioned Clinton's name on Tuesday, it was met with shouts of "Lock her up!"
Trump jokes, "I guess she didn't do very well" with the crowd.
—
10:12 a.m.
Hillary Clinton's campaign aides say Tuesday night's convention "will make history about 100 years in the making." It's the first time a major party will nominate a female presidential candidate.
Communications director Jen Palmieri and senior adviser Karen Finney say the evening will focus on Clinton's story and "the fights of her life." But Clinton herself will be watching the festivities ?- including a speech by former President Bill Clinton -? from her home in New York.
Downplaying signs of disunity in the convention hall, Finney is deeming Monday night "very successful" because of the "full-throated" endorsement from Clinton's former rival, Sen. Bernie Sanders. Sanders delegates will be allowed to cast votes for him during a roll call tonight.
—
9:35 a.m.
Democrats are blaming decades of Republican attacks for polls that show Hillary Clinton is widely distrusted and in a tight race against Republican presidential candidate Donald Trump.
Clinton campaign manager Robby Mook says Clinton has long fought for children and families and "has scars to show for it." He says Clinton has "paid the price" by being constantly attacked by the GOP, including House Republican investigations he says were aimed at lowering Clinton's poll ratings.
Democratic Sen. Claire McCaskill of Missouri says that "every scar that Hillary Clinton wears, she got while she was in public service" fighting for children and families. McCaskill says this week's convention will focus on Clinton's long career and help people see "beyond the 30-second soundbites that are put out by the Republican attack machine."
Clinton has said she has work to do to earn voters' trust.
Mook and McCaskill spoke in separate interviews Tuesday on MSNBC's "Morning Joe" show.