STENSON, MICKELSON FOREVER LINKED AFTER EPIC OPEN DUEL
TROON, Scotland (AP) — They walked off the 18th green together, arms wrapped around each other, forever linked by one of golf's greatest duels.
Henrik Stenson and Phil Mickelson.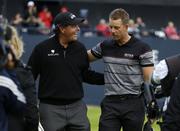 No losers here, but only one winner.
Stenson claimed the claret jug, a major champion for the first time at age 40. All it took was 10 birdies and a magnificent 8-under 63 in the closing round of the British Open.
Right on his heels, almost to the very end, was Mickelson. Lefty shot a bogey-free 65, good enough to win on just about any Sunday but this one, another runner-up finish in a major providing little consolation.
"I'm happy for Henrik," said Mickelson, who finished three shots behind Stenson's record score for a major championship. "I knew that he would ultimately come through and win. I'm disappointed that it was at my expense."
This was a shot-for-shot showdown that mirrored Tom Watson and Jack Nicklaus at Turnberry in 1977, the famed "Duel in the Sun."
Maybe it was a sign when the sun popped out from behind the clouds for the first time in three days at Royal Troon just as Stenson and Mickelson walked to the first tee.
"I knew he wasn't going to back down at any point," said Stenson, whose 20-under 264 beat the scoring mark of 265 that David Toms set at the 2001 PGA Championship and was three shots better than anyone had ever shot in the Open. "I knew I had to keep on pushing, keep on giving myself birdie chances."
For Mickelson, there was no second-guessing the way he played. This wasn't another Winged Foot, where his silly decision to attack on the 72nd hole cost him the U.S. Open in 2006. But it was still a runner-up finish in a major, the 11th of his career, his extensive list of close calls surpassed only by Nicklaus' 19.
Mickelson knew there wasn't much more he could do.
Still, this one hurt just as much as the rest of them.
In a way, maybe even a little more.
"It's probably the best I've played and not won," Mickelson said. "I don't have a point where I can look back and say, 'I should have done that' or 'Had I only done this.' I played a bogey-free round of 65 on the final round of a major. Usually that's good enough to do it. And I got beat."
At 46, Mickelson knows his window of opportunity is beginning to close.
He would've been the oldest winner of the Open since 1867.
No one older than 48 has ever captured a major.
"I played what I feel was well enough to win this championship by a number of strokes, and yet I got beat by three strokes," he said. "You know, it's not like I have decades left of opportunities to win majors, so each one means a lot to me. And I put in my best performance today. Played close to flawless golf and got beat."
Stenson has long been one of the better players on the PGA Tour, but he'd never been in the final group of a major before this one.
He looked like he'd done it all before. Many times, in fact.
"It's not something you want to run around and shout, but I felt like this was going to be my turn," Stenson said.
Even with a couple of three-putt bogeys and a 5-foot birdie attempt that slid by the cup at 17, Stenson became only the second player to close with a 63 in the final round of a major. Johnny Miller did it first in 1973, rallying from six shots down to capture the U.S. Open by a single stroke.
This one was more like the 39-year-old showdown between Watson and Nicklaus at another course in the British Open rotation, the one 25 miles down the Scottish coastline. Watson's 65 was just enough for a one-stroke victory against Nicklaus' 66, with the next-closest player another 10 shots back. On Sunday, J.B. Holmes finished third, 11 shots behind the runner-up.
"I thought we played great and had a wonderful match," Nicklaus wrote on his Facebook page, remembering Turnberry. "Our final round was really good, but theirs was even better. What a great match."
Stenson began the day with a one-stroke lead. Neither player could push the margin any higher than that until they got to the 15th, the Swede again up by a shot after rolling in an 18-foot birdie the previous hole.
Mickelson had the edge, putting his approach on the green, about 30 feet from the flag. Stenson's second shot rolled off the right side of the green, leaving him with a 50-foot putt up the ridge.
Stenson made his. Mickelson didn't.
That was the decisive blow.
"We both played some great golf," Stenson said. "It makes it even more special to beat a competitor like Phil. He's been one of the best to play the game, certainly in the last 20 years."
Now it's on to the PGA Championship in less than two weeks, the schedule compressed because of the Olympics.
For Mickelson, it's a chance to get over the sting of such a bitter defeat. He won the PGA the last time it was played at Baltustol in 2005.
For Stenson, it's a chance to quickly add another major to the one he waited so long to get.
"We're only getting started, aren't we?" he said, a newfound confidence in his voice. "You never know once you open the floodgates what might happen."