SPIETH SET HIGH EXPECTATIONS FOR YOUTH AROUND HIM
KAPALUA, Hawaii (AP) — Jordan Spieth made it tough on everyone in his age group, including Justin Thomas.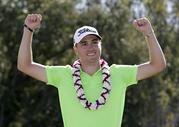 The high school class of 2011 features Spieth and Thomas, along with Daniel Berger, Patrick Rodgers, Ollie Schniederjans and Emiliano Grillo. Another of their friends from junior golf, Smylie Kaufman, was one year ahead of them.
They all were top players with bright futures.
None proved it quicker than Spieth, which only raised the bar for everyone else.
After failing to get through the second stage of qualifying school, and with no status on any tour going into 2013, Spieth managed to get special temporary status on the PGA Tour, picked up his first title that summer, made it all the way to the Tour Championship, played in the Presidents Cup and cracked the top 25 in the world.
Thomas turned pro that summer, in 2013, spent a year on the Web.com Tour and had no trouble getting to the big leagues. In his rookie year, he was in the hunt five times on Sunday, including The Players Championship, without winning.
It would be easy for Thomas to feel as though he were underachieving, even after such a strong rookie season. All the talk was on the youth movement, and he desperately wanted to be part of it. Thomas had just turned 22.
Two years later, he is part of the conversation when it comes to rising stars in golf.
Thomas started the new year by winning the SBS Tournament of Champions at Kapalua for his third PGA Tour title and second this season. He moved to a career-high No. 12 in the world ranking, joining Spieth (No. 5) and Hideki Matsuyama (No. 6) as the only players under age 25 in the top 15.
"I think it drove me a lot," Thomas said. "It's weird, I mean, some of the friends … I wasn't mad, but it was maybe a little frustrating sometimes seeing some friends and peers my age do well. Not because I wasn't cheering for them, but because I felt like I was as good as them. It's just immature of me. The fact of the matter is, over the course of a long career, we're going to beat each other."
Of that group of youngsters, Thomas was the fourth to win on the PGA Tour.
Spieth already had won six times, including the Masters and U.S. Open in 2015. At the start of the next season, Grillo won the Frys.com Open, Kaufman won in Las Vegas and Thomas broke through in Kuala Lumpur over the next three weeks.
The following week showed what a fraternity it really is.
One night in a Shanghai hotel during the HSBC Champions, Spieth, Grillo and Thomas were sitting in the lobby around a small table eating ice cream and laughing at their days as juniors (most of the stories were about Kaufman, who wasn't there).
Spieth, who rallied for a 65 on Sunday to tie for third, had one eye on an NFL playoff game and one eye on the final few holes when Thomas had a five-shot lead shrink to one shot in a span of two holes. When Thomas wrapped it up with an 8-iron to 3 feet for birdie on the 17th hole, Spieth headed down to meet him off the 18th green.
Spieth and Thomas have been linked as long as both have been on the PGA Tour.
During his rookie year, it seemed Thomas was referred to more as "Jordan's buddy" than his own name. That can get old, and it showed at Kapalua. Thomas had a share of the 36-hole lead, and when an unsuspecting reporter asked him if he had talked to Spieth about the course – Spieth won last year – Thomas replied, "No, I haven't."
When the rain arrived the weekend before the tournament, Spieth and Thomas headed to another part of Maui away from the clouds to practice and play.
They are rivals only on the golf course, which dates to 10 years ago when they were picked to represent the U.S. in the Evian Junior Masters in France. Thomas won the 36-hole event and earned a spot in the pro-am with Juli Inkster. Spieth caddied for him.
Thomas still says the most devastating loss in his golf career was to Spieth in the 2012 NCAA finals at Riviera, where Spieth holed a shot from the fairway bunker on No. 15, and his victory helped lead Texas to the title over Alabama.
Spieth was gushing about his friend as Thomas was building a big lead Sunday at Kapalua.
"I think it's potentially floodgates opening," Spieth said. "The guy hits it forever. He's got a really, really nifty short game. He manages the course well. He's playing the golf course the way it should be played, and honestly, he's taking advantage of the easier holes. … It's awesome to see.
"He's going to be tough to beat next week, too."
Thomas and Spieth are both in the field.
So are Rodgers, Berger and Schniederjans. No doubt, they're paying attention to who's winning and wanting it to be their turn.