SORENSTAM HAS 'FAIR PLAY' IN MIND AHEAD OF 2017 SOLHEIM CUP
EVIAN-LES-BAINS, France (AP) — Golfing great Annika Sorenstam has a clear idea of what she expects from her players at next year's Solheim Cup in the United States.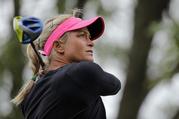 Although the 10-time Grand Slam winner demonstrated a huge competitive streak during her career, Sorenstam wants to avoid a repeat of the tension in last year's tournament in Germany, when Norwegian Suzann Pettersen infuriated American fans.
"Number one on our list is that it's all about sportsmanship and fair play. The last thing we want is a controversy of any kind," Sorenstam told a small group of reporters during this week's Evian Championship. "This is the biggest tournament in women's golf; we don't want to leave it the way it was in Germany. Unfortunately people talk more about the incident than how good the golf was."
Sorenstam will captain Europe against Team USA for the first time at the Des Moines Golf and Country Club in Iowa next August. The fervent home crowd might well give Pettersen a rough time after what happened last September.
Pettersen angered the Americans by insisting that Alison Lee be penalized for picking up her ball when she thought her short second putt had been conceded in a fourballs match. The U.S. went on to stage the biggest comeback in event history, winning 8 1/2 points in the 12 singles matches to take the cup.
The controversy arose after Lee's birdie putt stopped less than two feet from the hole and she thought Europe conceded when Pettersen's partner Charley Hull started walking away. Hull said she had not been walking off, but rather had gone to consult with Pettersen whether to concede or not. But Lee had already scooped up the ball.
"People say, 'What do you want to be remembered as?' and I say 'Somebody who enjoyed the game and somebody who had sportsmanship,'" the 45-year-old Sorenstam said in Evian. "This is the highest platform for women's golf. We need to be role models."
Sorenstam helped Europe win in 2000 and 2003, and was an assistant captain in three events. She won 72 times on the LPGA Tour and was inducted into the Hall of Fame in 2003. She's second in Solheim Cup history with 24 points, a point behind Laura Davies.
Sorenstam is curious as to what reception the 35-year-old Pettersen will receive, and how any eventual hostility may affect her.
"It will be interesting to see the response. If there is an indication of that we will have a conversation," Sorenstam said. "Number one thing I've learned is that you have to address things. The sooner you address things, I hope, the less of a pain it becomes."
Pettersen apologized for making the controversial call which helped move Europe up 10-6 – yet is seen as inspiring the American rally to win 14 ½ to 13 ½.
"I'm so over the incident. It wasn't something we tried to do (deliberately)," Pettersen, a two-time major winner, said after her final round in Evian on Sunday. "I don't know if it got taken out of proportion, but it obviously blew up a lot bigger than anything thought."
Pettersen sees it as an isolated incident and does not "really care" if she does get a bad reception.
"It's like Ali (Alison Nicholas) said when she walked down the 18th winning the U.S. Open (in 1997)," Pettersen said. "She couldn't hear a thing, she'd silenced the crowds and that's how you do it. Play better. Make putts. They'll go quiet."
Sorenstam, meanwhile, is heading to the Ryder Cup at the end of this month to get a feel for the atmosphere her own Team Europe players are going to face.
She says Europe's Ryder Cup captain Darren Clarke has been a huge help, as has Paul McGinley, the winning captain two years ago.
"They were both generous with their time and their information. Darren has invited me to be in the team room and on the first tee," Sorenstam said. "Darren is an extreme planner. He told me when I met him in March to write the speech for the gala dinner.
"I said 'I've got 18 months' and he said 'Better get ready now.'"