North American rhapsody: Queen, Lambert tour; no record yet
Queen has clearly found somebody to love in Adam Lambert.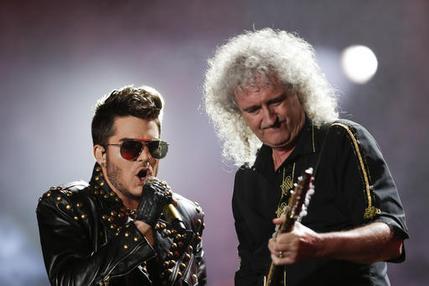 Since joining forces with the "American Idol" runner-up for a series of shows in 2012, the band that ruled rock radio in the 1970s and early '80s has enjoyed tremendous success, with audiences embracing Lambert as the heir to Freddie Mercury's onstage legacy.
They've been selling out areas around the world for five years now, and have just announced a 25-city North American tour beginning June 23 in Phoenix.
But there's one thing they haven't dared try yet: recording a studio album of all-new Queen songs. And despite their effortless box office success, it might not happen soon, if at all.
"We get asked that question constantly, but we really haven't had much of a conversation about it internally," said Lambert, who maintains a solo career between Queen tours. "It's totally possible. But what is it? I would never re-record a song that Freddie recorded because that would be sacrilege. If I were to record something brand new, would it be called 'Queen?' Would we have some supergroup name?"
Lambert said he and founding members Brian May (guitar) and Roger Taylor (drums) have not recorded demos of any new material.
May said the band took its cue from the ho-hum response to a studio album it did with Bad Company singer Paul Rodgers in 2008, "The Cosmos Rocks."
"The world kind of turned a blind eye to it, and I think we subconsciously absorbed the message that people wanted to hear Queen with Freddie," May said. "That's what they expected; they didn't want to hear anything else. I don't know if that's a correct conclusion or not, but that's kind of the message we got, so I think we turned our attention to live."
Taylor said recording a new studio album "seems like an obvious thing to do, but really, we don't plan ahead that much or that far. The band is working beautifully, so we don't want to stop that until it's not working beautifully."
May is more receptive to the idea of a new album now with Lambert on board.
"If the moment came up, if there was a real reason to make a new recording, a new song, if the right song came up, we would go with it in the snap of a finger," he said. "But at the moment, we're very happy touring."
That entails staging an entirely new show from scratch, with a new set list, lighting, video screens – and the way the band interacts with the audience. Mercury's give-and-take with the crowd, including daring them to match his a cappella vocal acrobatics, and May's acoustic sing-alongs on "Love of My Life" and "39″ became integral and enduring parts of a Queen concert.
When Mercury died in 1991 of complications from AIDS, "Brian and I thought everything was kind of over," Taylor said. "But Adam Lambert is an extraordinary talent and just fits in perfectly with us."
"It was good when it started, but now I feel like it's more second-nature," Lambert said. "I feel like I've crawled into these songs and can run around in them now."