SCHERZER FINDS HIS FORM, RENDON HOMERS AS NATS BEAT D-BACKS
WASHINGTON (AP) — When Anthony Rendon hit a three-run home run to put the Washington Nationals ahead, Dusty Baker couldn't contain his excitement. The veteran manager was so excited about Max Scherzer being in line for his 19th win that he celebrated in the dugout with the Cy Young Award candidate.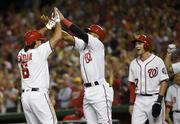 Thanks to Rendon and his own in-game adjustments, Scherzer got that 19th win as the Nationals beat the Arizona Diamondbacks 4-2 on Tuesday night. Scherzer gets the chance at win No. 20 in his final start Sunday, something Baker was thinking about all along.
"He really cared about it," Scherzer said of Baker. "You could just tell that he really wanted it. That just shows you how great our team is that when we're down two runs in the sixth inning we find a way."
Scherzer (19-7) shook off a leadoff home run by Jean Segura and third-inning doubles by Jake Lamb and Welington Castillo to get through six innings with just two runs allowed and six hits. He struck out 10 batters for the 13th time this season and 49th time in his career, reaching 277 strikeouts in 2016 to break his own Nationals record set last year.
As pumped as Baker was about Scherzer strengthening his Cy Young Award case, the right-hander knew this was an important game, with the Los Angeles Dodgers chasing Washington for home-field advantage in their NL Division Series. The Nationals lead Los Angeles by two games with five to play, after the Dodgers lost 7-1 at San Diego.
"That's what we're playing for," said Scherzer, who mixed in his slider, curveball and changeup to strike out six consecutive batters at one point. "I know the 19 wins, yada, yada, yada, but the most important thing is the team wins. I would love to have Game 5 here at Nationals Park facing the Dodgers. In a short series, home-field advantage matters."
After Arizona's Matt Koch held the Nationals without a hit through five innings of his first major league start, Rendon hit his 19th home run of the season, depositing a fastball from Randall Delgado (4-2) into the visiting bullpen in left-center field. That set off Baker and Scherzer's emotional celebration and earned Rendon a curtain call from the crowd of 24,297.
"It was pretty cool," said Rendon, whose home run was his 500th career hit. "It's definitely humbling, too. It doesn't happen too often, so enjoy it."
Rendon stepped up with power in the Nationals' first game without all-star catcher Wilson Ramos, out for the rest of the season and playoffs after tearing the ACL in his right knee Monday. Backup catcher Jose Lobaton also contributed at the plate like Baker needs him to, and Rendon supplied the big hit at the start of what the manager referred to as "hero time" with so much at stake.
With Ramos out, reigning NL MVP Bryce Harper still not ready to return from a thumb injury and Daniel Murphy out with a strained glute, Rendon is needed more than ever and he delivered.
"He's a guy that can hit second, third, fourth, fifth depending on who we have out there," Baker said. "He's virtually unfazed by almost any situation. You can't tell when he's excited and that helps him at the plate."
KOCH COMES THROUGH
Koch impressed manager Chip Hale by being so aggressive and effective in his first start after five relief appearances. Lobaton's single in the sixth ended the no-hit bid, but the 25-year-old probably wouldn't have been able to go much longer with a pitch limit around 75.
The right-hander finished with 69 pitches, 47 for strikes.
"This was a guy who has already shown in the relief appearance that we gave him that he's not afraid and he goes right at guys," Hale said.
TRAINER'S ROOM
Diamondbacks: Hale said RHP Rubby De La Rosa successfully had stem cell injections in his elbow. De La Rosa is trying the stem cell procedure in an attempt to avoid a second Tommy John surgery.
Nationals: LHP Sammy Solis threw a perfect seventh inning in his first appearance since Aug. 15 after a stint on the DL with shoulder inflammation.