SAN FRANCISCO CHINATOWN GANG LEADER GETS LIFE IN PRISON
SAN FRANCISCO (AP) — A federal judge on Thursday sentenced a San Francisco Chinatown gang leader known as "Shrimp Boy" to life in prison for killing a rival.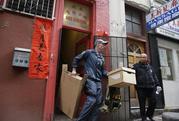 Raymond Chow, 56, was sentenced by U.S. District Court Judge Charles Breyer.
His prosecution was part of a major organized crime investigation in Chinatown that also brought down a state senator.
Prosecutors say Chow killed a rival in 2006 and took over a Chinese fraternal group that had members that engaged in drug trafficking, money laundering and the sale of stolen cigarettes and top-shelf liquor such as Johnny Walker Blue Label and Hennessey XO.
Wearing dapper suits and a beaming smile, Chow had presented himself as a reformed gangster who went from dealing drugs and running an escort service to mentoring troubled youth.
The murder charge against Chow carried a mandatory life sentence. Jurors convicted Chow of an additional 161 charges, including racketeering and conspiracy to commit murder in connection with a second slaying.
"Chow is deserving of a life sentence and nothing less because of his unceasing criminal conduct from a young age, the seriousness and violent nature of that conduct, his mockery of real rehabilitation, his corruption of those around him and those younger than him, and his absolute lack of any remorse even in the face of his most recent convictions," prosecutors said in a sentencing memo.
Chow has maintained his innocence, saying he was the victim of unscrupulous prosecutors who were determined to send him to prison. He renounced his drug-dealing and gangster ways after leaving prison in 2003 and turned to meditation and was working on a biography when he was arrested in 2014, he testified during the trial.
His conviction was largely the work of an undercover FBI agent who posed for years as a foul-mouthed East Coast businessman with mafia ties after infiltrating Chow's fraternal group – among dozens of active tongs, or family associations, in Chinatown.
The agent testified under a false name that he wined and dined Chow and his associates for years. Chow willingly accepted envelopes stuffed with thousands of dollars in cash for setting up various crimes, the agent said.
Chow said he was given the money because the agent was showing his respect, not in exchange for criminal activity.
The investigation of Chow's tong led to the indictment of more than two dozen people, including former State Sen. Leland Yee – a gun control advocate who acknowledged in a plea deal that he accepted thousands of dollars in bribes and discussed helping an undercover FBI agent buy automatic weapons from the Philippines.
A federal judge sentenced Yee in February to five years in prison.