S. Korea economy shows signs of recovery buoyed by exports, consumer sentiment: observers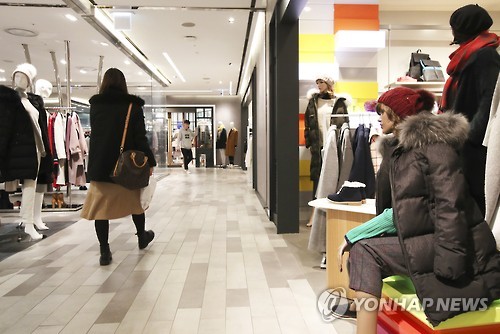 SEOUL, April 6 (Yonhap) — South Korea's economy is showing clear signs of picking up pace helped by surging exports, improved consumer sentiment and a rise in stock prices, although some lingering uncertainties could limit a full-fledged recovery, at least for the time being, observers said Thursday.
It will take several months for rising exports to lift domestic consumption, a major obstacle to the full-scale economic recovery of Asia's fourth-largest economy, experts said as they predicted some lag time before results start to really show.
"It takes time for the improving exports to raise wages and consumption," said Joo Won, a researcher at Hyundai Research Institute. "We should witness domestic consumption recovering in the summer."
South Korea's exports rose for the fifth straight month in March to US$48.9 billion, up 13.7 percent from $43 billion tallied a year earlier, backed by brisk sales of chips, displays and cosmetics. The figure is the highest in more than two years.
The benchmark Korea Composite Stock Price Index closed at 2,160.85 Wednesday, after hitting an all-time high of 2,216 points on April 25, 2011.
Some analysts believe the main bourse may break the previous record this year on sound corporate earnings and improving economic conditions.
The Bank of America recently predicted South Korea's export growth will raise industrial production and facility investment, offsetting weakness in private consumption and the construction sector.
Consumer sentiment also improved in March helped by strong exports and eased political uncertainties with the composite consumer sentiment index for March surging to 96.7 from 94.4 a month earlier, the Bank of Korea said. It attributed the improvement to increased exports and the Constitutional Court's decision to oust Park Geun-hye from the presidency over a corruption scandal, which had fueled political uncertainty in South Korea.
Reflecting this domestic spending appears to have begun picking up.
Sales at Lotte Department Store soared 0.5 percent in March from a year earlier, although the country's largest department store suffered a 1.2 percent reduction in sales on-year during the first two months this year.
Hyundai Department Store also posted a 0.9 percent increase in sales in March from the previous year with the comparable figures being 1.6 percent in January and minus 3.2 percent in February. A major online shopping mall, meanwhile, enjoyed a whopping 10 percent surge in sales during the first three months this year from a year earlier.
The slow pace of recovery in sales is due to the "weakening connection between exports and domestic spending," Joo said. "That's because the manufacturing industry has had less effect on employment.
He noted that the booming semiconductor, display and cosmetics industries employ less than the shipbuilding and construction industries, which are currently struggling to survive in the midst of a slump. This he said is partly responsible for the weak demand.
Some experts said that while conditions are improving, they cautioned it may take time before a full-fledged recovery is felt across the board.
"It is premature (at this juncture) to talk about the early economic recovery," said Kim Hyung-joo of the LG Economic Research Institute. "We still need to have a look at the trend for a while as the surging exports and industrial output are not based on robust demand from advanced economies."
Major businesses have yet to begin investing heavily in facilities because of the uncertainties ahead of the May 9 presidential election and the diplomatic row with China over South Korea's deployment of a U.S. missile defense system on its soil.
China has been retaliating economically since late last year in anger over the Terminal High Altitude Area Defense (THAAD) battery in South Korea, although Seoul says it's not against China but to defend threats from North Korea's missile and nuclear arsenal.
Bae Sang-geun of the Korea Economic Research institute was generally pessimistic about South Korea's economic recovery in the near future.
"We may have to see the slumping consumption driving South Korea as a repeat of Japan's 'Lost 20 Years,'" he said. "Domestic spending will not likely pick up due to the aging population and the limiting economic circumstances at the moment."
Many economists called on the government to increase fiscal spending to help prop up domestic consumption, although conceding the government's role may be limited because spending is linked to the private economic sector.
Professor Shin Se-don of Sookmyung Women's University proposed that the government should use its budget to improve the livelihoods of the impoverished rather than raising fiscal spending.
"The poor domestic consumption is connected to wage reduction," Shin said. "We need to approach the issue on a long-term basis by providing a massive assistance to the small and medium-sized firms to help with their competitiveness going forward," he said. He then said tax cuts will only have a short-term effect.