S. Korea, China, Japan to hold foreign ministers' meeting this week
SEOUL, Aug. 22 (Yonhap) — Top diplomats of South Korea, China and Japan will hold a meeting this week to discuss cooperation and make preparations for a summit of their heads of state likely to be held this year, the foreign ministry here said Monday.
South Korean Foreign Minister Yun Byung-se meet with his Chinese and Japanese counterparts, Wang Yi and Fumio Kishida, in on Tuesday and Wednesday, according to the ministry.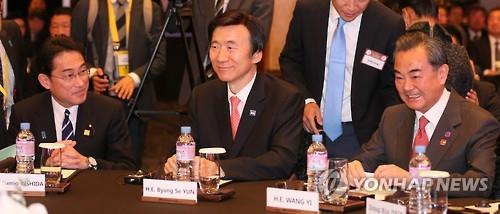 "During the upcoming meeting, the ministers of the three countries will exchange a wide range of views on major regional and global issues along with their assessment of the trilateral cooperation and its future development directions," the ministry said in a press release.
On the sidelines of the gathering, South Korea is seeking bilateral talks with Japan and China, respectively, the ministry said.
High on the agenda at the ministerial meeting will be making preparations for a summit between their leaders. The three neighbors resumed the trilateral summit talks last year after more than three years of hiatus over territorial and historical disputes among the countries.
The foreign ministers' meeting comes amid speculation that the three might not be able to get together this month as territorial disputes between Beijing and Tokyo has been deepening over islands in the East China Sea, called Senkaku in Japan and Diaoyu in China.
South Korea and China have also been at odds over Seoul's recent decision to deploy a Terminal High Altitude Area Defense battery on its soil, drawing strong objection from Beijing which worries that it can be targeted by the missile defense shield.
Preparations seem to have picked up speed as senior foreign ministry officials of the three held a preparatory meeting in Tokyo on Sunday to set the date for the meeting and discussion agenda.