RIO POLICE ARREST 10 IN PRE-OLYMPIC RAID ON SLUM
RIO DE JANEIRO (AP) — Police arrested 10 suspected criminals on Wednesday in a raid in one of the most violent areas of Rio de Janeiro, only two days before the Opening Ceremony of the 2016 Olympic Games.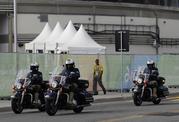 According to police, an investigator was shot, but left the hospital and only suffered a minor injury.
Complexo do Alemao, a compound of slums known as favelas controlled by different drug trafficking gangs, is one of the most dangerous areas of Rio.
The compound is close to one of the roads that takes visitors from Rio airport to the Olympic Park, in the west zone of the city.
The police operation is still ongoing and more arrests could be made by the end of the day.
Rio will host the Olympics between Aug.5 to 21.