Reward for ferry owner unlikely to be paid out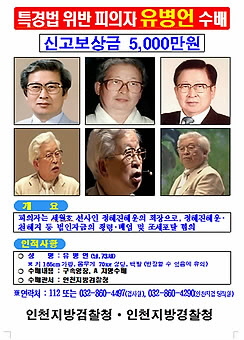 By Jung Min-ho
A farmer who found Yoo Byung-eun's dead body is unlikely to receive the reward that was offered for information about his whereabouts.
Park Yoon Seok discovered the fugitive's body on June 12 in a field near Yoo's vacation home in Suncheon, South Jeolla Province. At the time, Park did not know the dead man was Korea's most wanted criminal with a 500 million won ($487,186) reward being offered.
According to National Police Agency regulations, reward money is only given to those who report a criminal's location so that police can apprehend him, or who hand them over to police.
The purpose of the money is to catch criminals, not just to find them.
Also, the regulations stipulate that in order to receive a reward, those who report the whereabouts of someone wanted by authorities must know that he might be the person for whom the police are looking.
A source from the investigation team said the key is the "intention of the call."
"There must be a record of his call to the police. If he said anything about Yoo, he will likely receive it," the source said.
Talking to reporters nearby the scene, however, Park said, "I had no idea it was Yoo … I am just dumbfounded."
Many people still believe he should receive "at least some money."
"His contribution to closing the government's wasteful manhunt should be recognized. Thanks to his report, now we know Yoo is dead, and therefore it no longer has to use lots of resources to catch him," a 24-year-old college student, surnamed Jung, told The Korea Times. "Perhaps he should not get all the money promised. But he certainly deserves some of it."
Some believe otherwise.
"I do not think he should receive the money because he apparently did not know it was Yoo," a 26-year-old college student, surnamed Yoo, said. "If it is given, the rules are being violated."
The government offered the biggest reward in history to catch Yoo, the de facto owner of the sunken ferry Sewol. It also offered 100 million won for information leading to the arrest of his eldest son.
Yoo went on the run amid an intensifying investigation into what caused the ship tragedy that killed more than 300 people, mostly high school students.
The National Forensic Service confirmed Friday that the dead body was Yoo, providing ample evidence, including DNA and chromosome matches.
On May 25, someone called police to report seeing "many cars" near Yoo's vacation home in the region. That person missed out on the reward because police did not find Yoo during a subsequent search of the residence.
Suncheon Police Station will soon form a special committee to decide whether to give the reward to Park.