Record-breaking 17 million foreign tourists expected this year
SEOUL, Dec. 26 (Yonhap) — Foreign tourists arrivals in South Korea are expected to surpass a record high of 17 million people this year on the back of a sharp increase in Chinese tourists, the Ministry of Culture, Sports and Tourism said Monday.
The number of foreign tourists to South Korea fell 6.8 percent on year in 2015, hit by the spread of the Middle East Respiratory Syndrome (MERS) virus.
In the first 11 months of this year, the number of foreign tourists to South Korea jumped 31.2 percent on year, according to the ministry data.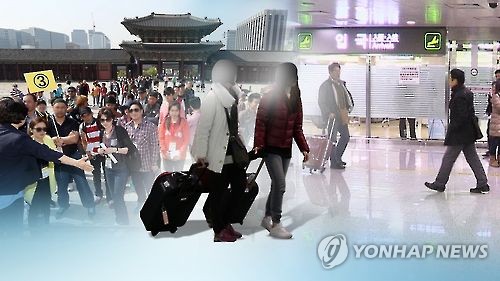 South Korea is expected to attract 8.04 million Chinese tourists this year, up 34.4 percent from last year.
The number of Japanese tourists to South Korea is also expected to rise 24.8 percent on year to 2.29 million people this year.
The number of Taiwanese tourists is forecast to surge 60.4 percent to 830,000, while about 650,000 Hong Kong tourists, up 23.7 percent on-year, are forecast to visit South Korea this year.
According to the World Tourism Organization, international tourist arrivals around the world rose 4 percent on year in the first 9 months of this year.
For the nine-month period, international tourist arrivals to South Korea jumped 36 percent on year.
This year, an increase in foreign tourist arrivals is likely to generate tourism-related revenues worth 19.4 trillion won and create about 374,000 tourism-related jobs, the ministry said.
Hwang Myeong-seon, director at the ministry's tourism policy division, said the government needs to step up efforts to develop tour packages that better appeal to foreign tourists.