QUAKE SURVIVORS ERUPT IN ANGER AT FUNERAL PLAN; GOVT RELENTS
ROME (AP) — Italian quake survivors rebelled in anger Monday over the government's plan to hold a state funeral for their loved ones in an airport hangar in a distant town, where scores of bodies are being kept in refrigerated trucks, and let them watch it on screens from near their emergency tent camp.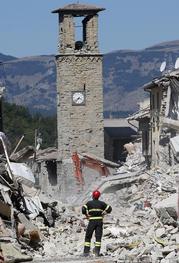 One relative of 7-year-old twins who perished in central Italy's Aug. 24 quake was so upset by the announcement he could barely speak, holding up seven fingers when explaining how old the children were. The mayor of Amatrice, the hardest-hit of the three medieval towns flattened by the quake, was also upset.
"Give us back our dead!" yelled one man in the crowd of several dozen survivors.
Sensing a public relations disaster, Italian Premier Matteo Renzi's government quickly reversed course, and he said the latest state funeral will take place Tuesday in the devastated Apennines hill town.
So far, 231 of the quake's 292 victims have been found in Amatrice, with the death toll rising by two Monday afternoon when two bodies were extracted from rubble.
The bodies of some 10 people, including that of the town's baker, are believed to be still buried under the rubble of hundreds of buildings that collapsed, many reduced to piles of stones. Hundreds of people were injured.
Last week, a stream of ambulances brought more than 100 victims in body bags from Amatrice and another hard-hit town, Accumoli, to the airport at Rieti, 65 kilometers (40 miles) away. There they were being kept in refrigerated big-rig trucks parked in the hangar. Some relatives who live elsewhere in Italy had sent hearses with coffins to claim their loved one's body for funerals elsewhere.
But nearly 80 bodies that families hoped would be buried near Amatrice or Accumoli remained at the hangar, and now, after the government relented, the corpses were going to be transferred back to the town.
Amatrice Mayor Sergio Pirozzi told a crowd that Renzi had just spoken with him by phone. "He granted the people's appeal," the mayor said.
Later, Renzi told state TV: "There were so many polemics, but it's absolutely right the people be able to weep for their dear ones in their place, their village."
Renzi's office later announced that the premier had declared Tuesday as a day of national mourning. The funeral will be held at the edge of Amatrice's obliterated medieval town center, on the grounds of a Catholic retreat home for elderly and others seeking a quiet respite in the mountains.
The same complex has a makeshift morgue, with about 10 corpses still inside awaiting official identification.
On Saturday, a first day of national mourning had seen a separate state funeral, for 35 victims from other towns. That service was held Saturday in Ascoli Piceno, a town unscathed by the quake. Renzi, as well as Italy's president and other officials, attended that funeral.
Survivors are also stressed over where they will stay when chilly autumn arrives soon in Amatrice, a town that lies 1,000 meters (3,300 feet) above sea level. Summer evenings require jackets there, and snow can come as early as October.
With thousands left homeless after the earthquake, authorities are debating how to provide warmer, sturdier housing for them besides the rows of emergency blue tents.
Nearly 2,700 quake survivors needing shelter have been staying in 58 tent camps or at other shelters arranged by Italy's Civil Protection agency. Others are sleeping on a basketball court in Amatrice's gym or sleeping in cars near their damaged homes. Those who could have fled to relatives' homes far from the quake-stricken region.
With several farm hamlets left virtual ghost towns by the quake, police are using motorcycles to patrol the debris-clogged streets against looters. Police said Monday that they had arrested a man and a woman suspected of looting.
Italy's lobbying group for farmers, Coldiretti, said Monday that farm animals, most of them sheep and cows, also need warm shelters at night, since 90 percent of the stalls and barns in the Amatrice area have been damaged.
Italian architect Renzo Piano, who met with Renzi on Sunday, has proposed building temporary wooden homes near the three devastated towns in central Italy so that traumatized people could stay near their roots.
But with so much of Italy quake-prone, Piano said a master, long-term reconstruction and building plan must be devised for the entire nation.
"We need a generational project, not four of five years, but maybe 100 years," the architect told state TV Monday in an interview in his office in Genoa. "Science will allow us … to not keep people away from their towns," Piano said, referring to ways to construct buildings so they can withstand quakes without deadly damage.
No long-term housing decisions have been announced yet.