PATRONS USE DOUGH TO BACK PIZZA PLACE TARGETED BY FAKE NEWS
WASHINGTON (AP) — There's at least a slice of good news for a pizza restaurant in the nation's capital caught up in fake news stories about a child sex trafficking ring run by prominent Democrats.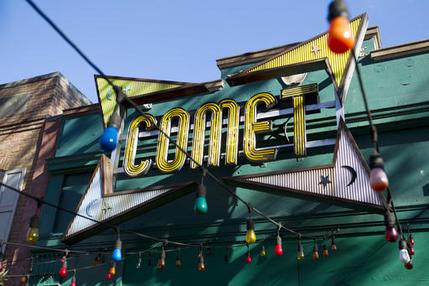 In the days since a conspiracy theorist showed up and fired an assault weapon inside Comet Ping Pong, supporters of the restaurant have turned out in droves to buy pizzas and leave homemade signs and flowers.
More than 2,000 people said on Facebook that they're going to this weekend's "Stand With Comet" event to support the pizza place and other neighborhood restaurants targeted by fake news fanatics.
John McKeel walked out of Comet Ping Pong Friday carrying "The Smoky," with mushrooms and bacon; and "The Jimmy," topped with meatballs. But McKeel wasn't just coming for the food.
"I had to come today" to support the restaurant, said McKeel, 39, of Alexandria, Virginia.
The Facebook page urged people to support not only Comet Ping Pong but other nearby stores that have been subjected to harassing and threatening online comments and phone calls since the fake news stories began spreading.
"If they run out of dough today, that'd be a good thing," said Erick Sanchez, the event's organizer.
So many came out Friday that people waited an hour and a half for a table and carry-out took 45 minutes. Other local restaurants spontaneously sent over wait staff to help. Others sent food for employees.
The restaurant also is getting support online, where a GoFundMe page set up to help it pay for legal expenses and extra security had passed $15,000, with a goal of $28,000.
Interim District of Columbia Police Chief Peter Newsham visited Friday, with a message for fake news peddlers.
"It's not funny. It's serious. It can have very, very serious consequences," he said, adding that police are following up on the harassment and threats local businesses have received.
The man police arrested Sunday at Comet Ping Pong, Edgar Maddison Welch, has a court hearing next week. Police have said the 28-year-old from Salisbury, N.C., fired shots from an AR-15 assault weapon after coming to "self-investigate" the conspiracy theory known as "pizzagate."
He surrendered peacefully "when he found no evidence that underage children were being harbored in the restaurant," police said.
Joey Allen, the marketing and events manager for the District Restaurant Group, which owns the nearby Jake's American Grille, says its restaurant also was harassed with calls related to the conspiracy. At one point the calls were daily, Allen said.
At Comet Ping Pong, the staff seemed to be in a good mood Friday, said Carrie Gillispie, 34, visiting with her husband. She wasn't bothered by the lines for tables.
"It makes me happy that the wait is so long," she said.
Her husband, Sean Gillispie, 34, said anyone who still thinks the restaurant is somehow connected to nefarious activities should come see for themselves that "this is just a normal business with normal people."
Plus, he said: "The pizza is really good."