Only at Pebble can the wind and rain be appealing for golf
PEBBLE BEACH, Calif. (AP) — Any other day, any other course, and the golf course might have been empty.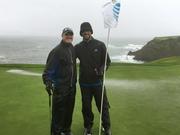 Gusts approached 40 mph and felt even stronger on the holes exposed along the Pacific coast. Rain fell sideways. Seagulls chose to walk.
This was not the "felicitous meeting of land and sea," as Pebble Beach is known. It was more of a confrontation.
But it was Tuesday at the AT&T Pebble Beach Pro-Am, and that was enough to make Jerry Kelly climb out of bed in morning darkness and call the PGA Tour rules staff to make sure Pebble Beach was open for play.
"I called Dillard Pruitt to see if they would let us on the course," Kelly said. "He said, 'I hate to say it, but you're good to go.'"
And so they went.
Kelly brought along his amateur partner, Green Bay Packers quarterback Aaron Rodgers, and two amateur friends for a match they had talked about for a year. Kelly said there was no hesitation about playing. Rodgers painted a slightly different picture.
"We had a little call this morning about whether or not we wanted to do this," Rodgers said with a grin as he ducked behind the mesh netting of a television tower behind the eighth green. "But they're great guys."
Rodgers feels right at home on the frozen tundra, so this was tame by comparison. It's just that he would have preferred a day on the golf course that didn't require him to dress in black rain gear, with black gloves on both hands and a black wool cap over his black cap.
"I love golf. I've only played nine holes since August," he said.
Even so, he said there is no way he would have showed up on the first tee in weather like this.
"Only at Pebble," Rodgers said.
That's the charm of this event. It's as much about competition as camaraderie among PGA Tour players and amateur partners who tend to be far more important, more influential, more famous and, in many cases, who love the game more than the guys who do it for a living.
That's what brings them out, even in weather so nasty that Kelly had to back off his tee shot when the wind blew over a metal fence.
"Any other tournament, nobody would be out here," Kelly said.
They had company, though not a lot. Brian Stuard played as a single in front of them. Two groups ahead was San Francisco Giants pitcher Matt Cain. He was supposed to play with Nick Watney, and when Watney didn't show, Cain went out with another amateur.
Charley Hoffman headed out when the rain began falling even harder. Watney eventually made it out there.
Tuesday was a precursor for what could be a rough week at Pebble Beach, and the grumbling sure to follow by those who don't get it or simply are too pampered. Never mind that Pebble has been blessed with gorgeous weather for the better part of a decade. All it takes is a week of rain – sunshine is not in the forecast until the weekend – for the reputation of "Crosby weather" to be restored.
The tournament was canceled because of a deluge in 1996. Two years later, players had to return in August to play the third round and make it official. And don't forget 1962, when it was delayed by snow. Jimmy Demaret rolled out of bed at the Lodge, saw snow on the 18th green and said, "I know I had a lot to drink last night, but how did I end up in Sun Valley?"
It was a wonder anyone was playing Pebble on Tuesday, which was only a practice day. There were small streams on some of the greens. The wind blew so hard that only a wooden fence post kept the tee markers from going over the cliff and into the ocean behind the seventh tee.
It helped that scores didn't count, not even Kelly's birdie on the fourth hole. Kelly played college hockey at Hartford and hit what amounted to a slap shot from the front of the green, up the spongy slope, through a puddle of water and into the cup.
Why bother on a day like this?
"Because it's there," Kelly said. "It's awesome to come out here and do this. It brings me back to why I play the game. It's kind of crazy. It's kind of fun. It's the stuff you did when you were a kid."
Crazy was Kelly hitting driver, 3-wood and hybrid on the par-5 sixth hole and still not reaching the green. Crazy was hitting a 4-iron just over the back of the green on the 106-yard seventh hole. Fun was aiming a 3-wood out toward the ocean on No. 8 and watching the wind bring it back some 25 yards to the green.
Kelly looked back at the raging ocean behind him, his rain suit soaked, his smile wider than ever.
"This," he said, "might be as good as it gets."
Only at Pebble.