Olympic countdown: 20 days to go!
Korea to send largest-ever delegation to Sochi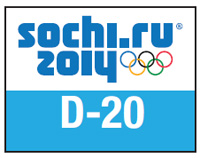 Anticipation is building for the Winter Olympic Games in Sochi, which is now only  20 days away.
Expectations have never been higher for Korea, which will be sending its largest-ever delegation to Russia, in what people see as a buildup to the PyeongChang Winter Games at home four years later.
While the Koreans will be keeping a watchful eye on the performance of their athletes in Sochi, time differential will likely pose a challenge to their eyelids. Seoul is five hours behind Seoul, but twelve hours ahead of Los Angeles, meaning 7 p.m. in Sochi is 7 a.m. in Los Angeles.
More than 2,500 athletes from 88 countries will be competing in 98 medal events during the two-week Games. Here's our brief preview of the major competitions involving Korean athletes.
Speed Skating
Feb. 8: Korean speed-skater Lee Seung-hoon will be competing in the men's 5,000 meters that will start at 8:30 p.m. KST, which will be 3:30 a.m. in Los Angeles.
Lee, the Vancouver Olympic silver medalist, has a formidable foe in reigning Olympic champion Sven Kramer, the world record holder with six minutes and 3.32 seconds, compared to Lee's best mark of six minutes and 7.04 seconds.
Kramer, the latest of a long-line of skating greats from the Netherlands, is in peak form, and has been unbeaten through the entire 2013-14 International Skating Union (ISU) Speed Skating World Cup season.
Lee seemed confident about his chances against Kramer at a press conference, Wednesday. He said he "doesn't feel pressured" ahead of the Games and said he expects to manage a good start that will boost the spirits of Team Korea earlier on.
Feb. 10: Mo Tae-bum, defending Olympic champion in the men's 500-meter speed-skating event, will begin his attempt at a repeat. Mo, who also won silver in the 1,000 meters in Vancouver, predicted his second-gold medal to journalists.
He said Wednesday his training has mainly focused on the 1,000-meter event to beat Shani Davis, an American two-time Olympic gold medalist, who will try to become the first male skater ever to win the event at three straight Olympics. He is confident about the 500-meter competition, although Davis could provide competition here as well.
Feb. 11: Lee Sang-hwa will attempt to become only the third female speed skater ever to repeat as Olympic champion in the 500-meter event, which starts at 9:45 p.m. (4:45 a.m. PST)
Lee has been dominating the competition since Vancouver, breaking the world record three different times. However, German standout Jenny Wolf might give her competition.
Wolf, who had been the world record holder before the Vancouver Games, lost to Lee, taking the silver medal. In their latest showdown in November last year at the World Cup in Calgary, Alberta, Wolf's time of 37.18 seconds fell short of Lee, who set a world record with 36.74 seconds.
Feb. 12: Mo will participate in the men's 1,000-meter contest at 11 p.m., which barring an upset, will come down to a showdown between him and Davis for the gold.
Short track
On Feb. 13: Shim Suk-hee, the 16-year-old starlet in short track speed skating, will begin her competition in the women's 500 meters at 7 pm. Lee expects to be in position to compete for glory in the women's 1,000-meter finals that start at 11 p.m.
On her first Olympic stage, Shim is a heavy favorite in the 1,000-meter and 1,500-meter events after winning the two events and the 3,000-meter relay at the World Cup Short Track in Italy in November.
Feb. 15: Shim will compete in the 1,500-meter event with compatriots Park Seung-hee, and Kim Ah-rang at 7 p.m.
Feb. 18: Shim and her teammates will compete in the women's 3,000-meter relay at 6:30 p.m. At 10 p.m., Lee Seung-hoon will try to defend his Vancouver Olympic gold in the 10,000-meter event.
Figure skating
Feb. 20: Figure-skating megastar and reigning Olympic champion Kim Yu-na will appear in the women's short program, which will be followed by the free skate 24 hours later. This is arguably the highlight of the entire Sochi Games for Koreans.
At the nationals, Kim set season records for scores in both the short program (78.50) and free skate (150.06), raising expectations for the final performance from one of the greatest figure skaters the world has ever seen.