NORTH CAROLINA GOVERNOR: FLOODED HISTORIC TOWN WILL GET HELP
TARBORO, N.C. (AP) — As flooding has begun to ease on North Carolina's rivers, allowing some people to return to their homes, the governor is pledging help rebuild and protect one of the country's oldest towns chartered by African-Americans.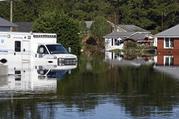 Gov. Pat McCrory on Thursday made an aerial tour of Princeville, after it was inundated by floodwaters for the second time in less than 20 years. This week's flooding was spawned by Hurricane Matthew. Princeville was also inundated in 1999 during Hurricane Floyd.
The governor said National Guard troops have been sent to Princeville with high-water vehicles to ensure no one loots stores or steals from vacant homes.
"I want to let them know we will be with you, and we'll do everything we can to help you rebuild this city," McCrory said. "And also, steps need to be taken where this won't happen again in the future."
McCrory said the flooding may be worse than Lumberton is experiencing further south.
The flooding triggered by heavy rain from Matthew – which killed more than 500 people in Haiti – has left at least 38 dead in the U.S.
McCrory said the number of statewide power outages continues to drop, down to about 44,000 from a peak of more than 800,000 Sunday. He reported the state's death toll climbed to 22.
But McCrory said flooding is still a major problem in poor areas in the eastern part of the state.
"It's a surreal experience to see this on a sunshiny day," McCrory said.
Floyd roared ashore on Sept. 15, 1999, not long after another hurricane saturated the state. Two days later, the rising Tar River engulfed Princeville in water 20 feet deep near the town hall.
Princeville's history as one of the country's first towns created by freed slaves in 1865 helped boost a rebuilding effort. The Federal Emergency Management Agency gave $26 million to Princeville's residents and another $1.5 million to the town.