No. 11 Louisville, Kentucky resume Governor's Cup rivalry
LOUISVILLE, Ky. (AP) — Kentucky and No. 11 Louisville will be playing in the postseason, not that it matters to either of them this weekend.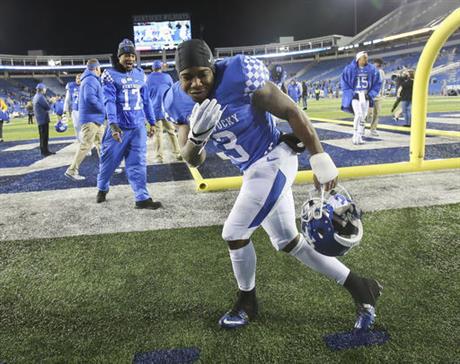 The Wildcats have recently entered the game trying to become bowl eligible, but Kentucky (6-5) beat Austin Peay last week to reach the six-win threshold. So now the Wilcats' urgency is ending a five-game skid against their in-state rival in Saturday's battle for the Governor's Cup and reaching seven wins for the first time since 2009.
"It's a little different, but it's rivalry week and those games are always hard-fought," Kentucky senior running back Jojo Kemp said. "So, it's really the same with guys going out there with the mentality to just grind and make sure we do everything to get the win."
The Cardinals (9-2) are looking to extend their dominance of the series, which is tied at 14.
Louisville also wants to play well following last week's 36-10 collapse at Houston that ended its outside chance of making the College Football Playoff. Players and coach Bobby Petrino have worked to put the mistake-filled loss behind them and reclaim the habits that had them in the playoff discussion for much of the season.
The Cardinals have additional incentives beyond bragging rights. They can reach 10 wins for the first time since 2013 and keep Petrino unbeaten against Kentucky in this seventh meeting as Louisville's coach.
"I've never lost to them, either," senior linebacker Keith Kelsey said. "Last year, I got hurt in the first half and couldn't come back in the game. This year, I want to be the one to carry the trophy off the field."
___
Here are other things to watch when Kentucky visits No. 11 Louisville:
RESTARTING JACKSON: While quarterback Lamar Jackson (47 touchdowns) remains the Heisman front-runner, last week's subpar effort opened the door for other hopefuls . Trophy talk has been muted this week by his focus on getting his team back on track. "He hasn't been concerned about that (the Heisman)," Petrino said of Jackson. "He has been worried about his performance and how (he) can help (his) teammates and you've really got to take your hat off to him on how he has handled it and how much of a great competitor he is. He truly does care about his teammates."
BALL PROTECTION: Both teams are prone to turnovers, with the Cardinals being the nation's most generous team with fumbles. They're dead last of 128 FBS schools with 20 fumbles lost, just six fewer than the Wildcats (tied for 124th). Louisville's minus-5 turnover margin is slightly better than Kentucky (-8), but both teams need improvement in that area to win.
RUSHERS vs. RESISTENCE: Kentucky enters with its first pair of 1,000-yard rushers in junior Boom Williams (1,072) and Benny Snell, whose 1,006 yards and team-best 12 TDs are both freshman school records. They'll face Louisville's sixth-ranked rushing defense that's allowing just 99.2 yards per contest.
SO LONG, SENIORS: Louisville will bid farewell to 23 players including 22 seniors on Saturday. Recruited by former coach Charlie Strong, many stayed on after Petrino's arrival in 2014 and are grateful to have played in bowl games and pursue a playoff berth this season. "It's been a great ride and a great decision for all of us to come back," added Kelsey, one of several players who returned for a final season.
SEEN BOTH SIDES: Lamar Thomas was Louisville's wide receivers coach the past two seasons and helped recruit Jackson before joining Kentucky's staff in a similar capacity this fall. He said he expects to feel emotional seeing players he brought there and coached but noted, "I'm here now, I'm enjoying it and I can't wait 'til Saturday."