NEWEST WILDFIRE ADVANCES ON THOUSANDS OF CALIFORNIA HOMES
SAN BERNARDINO, Calif. (AP) — California's newest huge wildfire advanced on thousands of homes Wednesday, feeding on drought-stricken vegetation and destroying an untold number of structures as it expanded to nearly 47 square miles.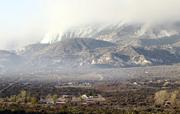 Authorities could not say how many homes were destroyed in the first furious hours, but they prepared communities for bad news.
"There will be a lot of families that come home to nothing," San Bernardino County Fire Chief Mark Hartwig said after a morning flight over a scene he described as "devastating."
"It hit hard. It hit fast. It hit with an intensity that we hadn't seen before," he said.
No deaths were reported but cadaver dogs were used to search ruins to look for anyone who was overrun by the flames.
The blaze 60 miles east of Los Angeles was among eight large wildfires being battled by 10,000 firefighters statewide, according to the California Department of Forestry and Fire Protection. In a fifth year of low rainfall, much of the area is in "extreme" or "exceptional" drought.
Flames continued to climb the flanks of the San Gabriel Mountains toward the town of Wrightwood, where authorities said that only half of the community's 4,500 residents had complied with evacuation orders covering more than 34,000 homes and some 82,000 people.
"This is not the time to mess around," said Battalion Chief Mark Peebles of the San Bernardino County Fire Department. "If you are asked to evacuate, please evacuate."
At an evacuation shelter, loading dock worker Shawn Brady, 30, was stressed about the home he shares with his mother, sister and dog on the outskirts of Wrightwood. He had heard it burned but hoped for the best.
"I'm trying to remain optimistic," he said. "It's the not knowing that's the worst."
Less than 24 hours after the blaze began, the fire command assembled a fleet of 10 air tankers, 15 helicopters and an army of 1,300 firefighters, many of them just off the lines of a wildfire that burned for 10 days just to the east.
The fire erupted late Tuesday morning in Cajon Pass, a critical highway and rail corridor through mountain ranges that separate Southern California's major population centers from the Mojave Desert to the north.
Countless big rigs were parked on both sides of the pass, waiting for Interstate 15 and a web of other roads to reopen. Alternate routes involved significant detours. The pass is a major route for travel from the Los Angeles region to Las Vegas and also carries significant daily commuter traffic for high desert residents.
The speed of the fire's spread astonished those in its path.
"This moved so fast," said Darren Dalton, 51, who along with his wife and son had to get out of his house in Wrightwood. "It went from 'Have you heard there's a fire?' to 'mandatory evacuation' before you could take it all in."
Hundreds of cars packed with belongings and animals left the town. The air for miles around the blaze was filled with smoke.
Shannon Anderson of Blue Mountain Farms horse ranch in Phelan had to evacuate 40 horses as the fire approached. "It's raining ash," Anderson said, breathing hard.
Devouring ranchlands, the blaze surged west to the Los Angeles County line and north to the Mojave Desert.
Eric Sherwin of the San Bernardino County Fire Department confirmed Tuesday night that the flames had burned at least a dozen buildings, some of them homes. He said he had seen all kinds of things burn, including the Summit Inn, a historic diner near I-15.
"I'm looking up here and I'm seeing buses. I'm seeing outbuildings. I'm seeing houses," he said.
Gov. Jerry Brown declared a state of emergency in the area within hours of the latest fire breaking out, a move that more often comes after a blaze has done several days of destruction.
Six firefighters were briefly trapped by flames at a home where the occupants had refused to leave, forcing the crew to protect the house, fire officials said.
As that fire surged, a major blaze north of San Francisco was fading, and about 4,000 people in the town of Clearlake were allowed to return home.
Their relief was tempered with anger at a man who authorities believe set the blaze that wiped out several blocks of a small town over the weekend along with 16 smaller fires dating back to last summer.
Investigators in Northern California said Tuesday that they had been building a case against the suspected arsonist, 40-year-old construction worker Damin Anthony Pashilk, for more than a year. But they did not have enough evidence to make an arrest until the weekend blaze ripped through Lower Lake.
The fire destroyed 175 homes and other structures in the working-class town of Lower Lake.
"What I'd do to him, you don't want to know," said Butch Cancilla, who saw his neighbor's home catch fire as he fled on Sunday. Cancilla still does not know the fate of his own home.
"A lot of people want to hang him high," his wife, Jennie, added.
An attorney listed as representing Pashilk did not return a call requesting comment.