N.K. fires off 2 Rodong missiles, one falls in Japan's EEZ: military
SEOUL, Aug. 3 (Yonhap) — North Korea on Wednesday fired off two mid-range Rodong ballistic missiles with one presumed to have landed in waters controlled by Japan, the South Korean military said.
The missiles were launched from near the southwestern county of Eunyul at 7:50 a.m., South Korea's Joint Chiefs of Staff (JCS) said, adding that one of them flew about 1,000 kilometers before falling into Japan's exclusive economic zone (EEZ).
"The North test-fired two ballistic missiles earlier in the day, but one of them exploded shortly after launch," the JCS said.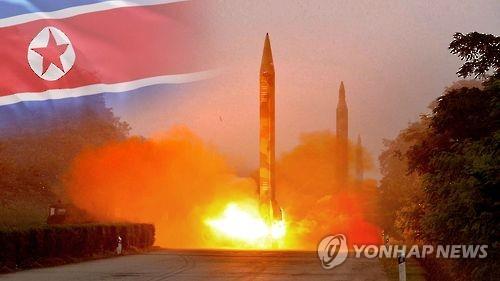 The South Korean military said that North Korea demonstrated its ability to target all of South Korea and neighboring countries by launching a missile that may be able to carry a nuclear warhead down the road. Some neighboring countries have U.S. radar installations that are keeping close tabs on the reclusive country.
Japan's defense minister told reporters earlier in the day that the North's missile appeared to have fallen into its EEZ, some 250 km west of Akita Prefecture in northeastern Japan.
Seoul said the latest launch marked the first time that a North Korean missile fell in Japan's EEZ, an indication that the communist country is testing the range of its Rodong missile that has a maximum reach of some 1,300 km.
On July 19, the North fired off two Rodong missiles and a shorter-range Scud missile in defiance of Seoul's move to deploy an advanced U.S. missile defense system. At the time, two of the three missiles flew some 500-600 km.
The latest saber rattling comes after South Korea and the United States decided in early July to deploy a Terminal High Altitude Area Defense (THAAD) system in the southern county of Seongju by the end of 2017 in a bid to counter North Korea's evolving nuclear and missile threats. The county is located about 296 kilometers southeast of Seoul.
As an integral part of the U.S.-led missile defense system, THAAD is designed to shoot down a ballistic missile at altitudes of 40 to 150 km in its terminal phase of flight using a hit-to-kill method.
In response to Seoul's decision to deploy a THAAD battery, North Korea warned last month that it will take "physical counter-action" to counter the anti-missile shield.
The North's provocation also came one day before the first anniversary of a land mine explosion near the inter-Korean border blamed on North Korea. The incident seriously injured two South Korean soldiers.
North Korea is banned from developing ballistic missile technology under relevant United Nations Security Council (UNSC) resolutions. The UNSC slapped its toughest sanctions on North Korea over its fourth nuclear test in January and long-range rocket launch in the following month.
North Korea has ceaselessly developed its nuclear weapons and missiles in defiance of international condemnation. The North has fired off ballistic missiles while claiming that it had succeeded in developing a nuclear warhead small enough to be put on a missile. However, Seoul and Washington have been skeptical about the North's claim.
It also claimed the successful launch of the Musudan intermediate-range ballistic missile in June, saying that it has the capacity to strike U.S. forces in the Pacific region.
Since North Korean leader Kim Jong-un took office in late 2011, North Korea is believed to have test-fired 32 ballistic missiles, including six Musudan missiles and six Rodong missiles, so far, according to Seoul's military.
The Musudan missile, with an estimated range of some 3,000 to 4,000 kilometers, could theoretically reach any target in Japan and fly as far as the U.S. territory of Guam. The Scud missile has a range of about 300 to 1,000 km.
South Korea's unification ministry strongly condemned North Korea for making the latest provocation, calling for an immediate halt to its missile launches.
"North Korea's act constitutes a clear violation of the relevant UNSC resolutions. The missile launch is a grave provocation to South Korea and the international community," Jeong Joon-hee, ministry spokesman, told a regular press briefing. "North Korea should immediately suspend its provocations and focus on improving the lives of its people."
He added that Pyongyang seems to be flexing its muscles and trying to drive a wedge between South Koreans over the issue of the THAAD deployment.
The South Korean military said that it will react resolutely to North Korea's provocations that threaten the country's security.
The foreign ministry also issued a statement in which it "strongly condemned" the North's missile launch and vowed to intensify global cooperation to fully implement sanctions against North Korea.
Local military analysts said that North Korea may declare a no-sail zone in waters off its east and west coasts for additional missile launches as South Korea and the U.S. are gearing up for the Ulchi Freedom Guardian joint exercise later in the month.
The North has long denounced it as a rehearsal for a northward invasion, a charge denied by Seoul and Washington.