MORE CHILDREN ARE VICTIMS OF CHICAGO'S GUNFIRE, GANG BATTLES
CHICAGO (AP) — The Chicago mother thought she knew when it was safe to take her children outside, that she could protect them by sizing up and avoiding the people whom trouble seemed to follow.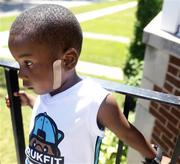 Then a bullet fired from a gun that D'Antignay Brashear never saw pierced the cheek of her 4-year-old son, Kavan Collins. It fractured the boy's jaw and shattered some teeth before it went out his other cheek, all while he held his mother's hand.
"He was with his mother, and it wasn't like I was doing something wrong, having him out after hours," said Brashear, a 21-year-old single mother of two, referring to the shooting that happened before sundown June 28 on Chicago's South Side. "I thought he was safe."
Kavan is part of a growing roster of children who have been shot in the city this year amid a spike in killings and shootings. More than 330 killings have occurred in the city.
So far, no child has died from the gunfire that's often connected to gangs. Children have been struck while doing normal kid things like playing with sparklers, drawing on the sidewalk or holding a mother's hand.
Statistics that The Associated Press requested from the Police Department show children ages 10 to 17, who make up more than 260 of the victims so far this year, are at greater risk than those younger than 10. But police records through the end of June showed 15 children younger than 10 had been shot, which is seven more young shooting victims than the same span last year.
Four more young children have been shot since the start of July, including a 6-year-old girl who was sitting on a porch Tuesday with her mother and grandmother when a bullet – one of more than 40 fired a block away – struck her in the stomach.
Police are trying to determine if the gunfire that struck Tacarra Morgan in the West Englewood neighborhood on the South Side was an exchange between people inside a caravan of cars and a group of men on the street. They say another possibility is that someone in one of the vehicles sprayed the area with a high-capacity assault weapon.
Tacarra's condition was upgraded from critical to serious, a hospital official said Wednesday.
The shootings, mostly in neighborhoods on the South and West sides, underline what the residents already knew: It's a dangerous time for the city's children as well.
But since the recent shootings of young victims haven't been deadly, they have received little attention outside Chicago. The children haven't become national symbols of the city's violence like 9-year-old Tyshawn Lee, who was lured into an alley last November with the promise of a juice box and shot to death, allegedly by gang members out to punish his father.
Other children besides Kavan have been struck by gunfire while doing nothing other than being kids, leaving their families to wonder if there's anything they can do to protect them. The victims include:
- Six-year-old Jaylene Bermeo, who was drawing with sidewalk chalk on the evening of June 6 in the Logan Square neighborhood on the city's northwest side when she was shot in the back. The bullet punctured her lung and lodged near her heart. Police say a 17-year-old boy accidentally shot the girl when he opened fire on rival gang members as he drove down the block.
- Three-year-old Devon Quinn, who was with his dad on Father's Day in a car in the Woodlawn neighborhood on the South Side when someone pulled up and fired at least 10 shots at the vehicle. Prosecutors say the gunman was a gang member who opened fire in a rival gang's territory to pay tribute to a dead member of his own gang. At a court hearing, prosecutors said the boy was left paralyzed from the chest down and that he will never be able to move his limbs or even breathe on his own.
- Five-year-old Taniyah Williams and her 8-year-old cousin, Corey Bondurant, who were playing with sparklers on the evening of July 4 in the West Englewood neighborhood on the South Side when someone sprayed the area with bullets. Taniyah was struck in the leg, as were a 19-year-old woman and a 30-year-old man. After the commotion, relatives discovered that 8-year-old Corey was also shot in the leg.
Since her son Kavan was wounded, Brashear struggles with how to talk to him about the shooting, even as she continues taking him to doctor appointments and trying to determine what can be done about his facial scars.
"I don't know how to explain it to him," she said of the boy who has been afraid to fall asleep since the incident and experiences nightmares when he does. "How do you tell a kid, 'Oh, you got shot.'"