MICKELSON DOESN'T NEED WIN TO VALIDATE A GOOD YEAR
SPRINGFIELD, N.J. (AP) — Phil Mickelson is running out of time to validate what quietly has been a good year, minus only a victory.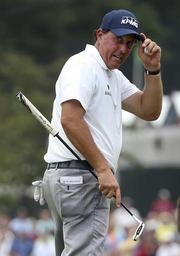 He is not running out of patience.
Mickelson expects the disappointment from his runner-up finish in the British Open to linger because of how well he played, only to lose to the lowest score in major championship history. He found himself thinking too much about results in the PGA Championship, and along with not making putts, he was never a factor at Baltusrol.
"Certainly, the play this year at the British tells me that I'm able to play at a high level," said Mickelson, who turned 46 in June and is starting to check out colleges for his oldest daughter, 17-year-old Amanda. "I'm starting to see my game come back. I'm starting to hit the shots again – what I'm visualizing, what I'm seeing – and doing it with ease now."
He had only two winless years on the PGA Tour, 1999 and 2003, until going the last two years without a victory. The British Open wasn't his only close call. He missed a short putt at Pebble Beach to get into a playoff with Vaughn Taylor. He closed with a 67 to finish second in the FedEx St. Jude Classic. And then there was Royal Troon, where his 267 was topped only by Henrik Stenson's 264 in British Open history. Call that a case of bad timing.
Even so, three runner-up finishes is the most Mickelson has ever had in a year that he didn't win.
Next up is a three-week break before he plans to play all four FedEx Cup playoff events. He has announced that after the Ryder Cup, he will play the Safeway Open that starts the 2016-17 season in Napa, California.
"I wouldn't say the lack of a win this year would be a failure, but it wouldn't be as successful as I want or expect," Mickelson said. "However, I'm optimistic heading into these next few events because I'm starting to hit shots."
Lost in this winless year is that Mickelson is on the verge of qualifying for his 11th straight Ryder Cup team. He has never been a captain's pick. Perhaps even more amazing is that his passion is still high in his 25th year on the PGA Tour.
"It's been very frustrating for me when I arrive to the course and shots aren't coming off," he said. "Trying to hit fades and it's drawing. Ball is not starting down my intended line. All those things have been very frustrating, but that has not been the case this year. The ball is starting down my line. The feel and touch is starting to come back. I'm starting to shoot some good scores. So I'm excited about where it's going."
—
JACK'S (NEW) STAND: Jack Nicklaus didn't understand why golfers would not want to go to Rio for the sport's return to the Olympics after 112 years, and opinions grew stronger when Rory McIlroy said he took up golf to win championships, not grow the game.
Nicklaus changed his mind, however, during the opening of The Golden Bear Grill last week in the Fort Lauderdale-Hollywood International Airport. The 18-time major champion said he initially felt bad for golf when top players began withdrawing, thinking it was selfish on their part to not help grow the game.
"Then I started thinking more about it and thought maybe I shouldn't have said that because it's not about that," Nicklaus said. "They aren't about growing golf right now. They are into playing golf. I'm into growing golf because I'm past my time. … I've taken the opposite side of my own opinion."
—
FAST START: Bryson DeChambeau tied for fourth in his professional debut at Hilton Head in April, and it appeared he would be a lock to go straight from college to the PGA Tour and earning a full card.
Instead, that honor might go to Jon Rahm of Arizona State.
He waited until after the U.S. Open to turn pro, and the Spaniard tied for third in his pro debut at the Quicken Loans National. Then, he tied for second at the RBC Canadian Open two weeks ago. He has yet to miss a PGA Tour cut in four starts as a pro. Rahm made the cut in four of the five PGA Tour events he played in college.
The high finishes over the last six weeks enabled him to take special temporary membership, making him eligible for unlimited sponsor exemptions. That's not a big deal because only three tournaments are left.
Rahm is playing the Travelers Championship this week, and he is likely to finish the equivalent of top 125 on the money list to earn a full PGA Tour card. The last player to do that was Bud Cauley in 2011.
Even if he gets his card, Rahm would not be eligible for the FedEx Cup playoffs unless he wins, which would make him a PGA Tour member immediately.
DeChambeau, meanwhile, still has work to do for him to avoid the Web.com Tour Finals. He missed four straight cuts after his tie for fourth, and only once has finished in the top 20. He also is playing the Travelers Championship.
—
RYDER CUP SHIRTS: Davis Love III is among the few who actually liked the Sunday shirts that Ryder Cup captain Ben Crenshaw had them wear at Brookline in 1999. They were maroon with old photos of previous winning U.S. teams, though that was hard to see from a distance.
Either way, they worked, and that's why Love still keeps his shirts.
Both of them, as it turns out, thanks to PGA of America manager Susan Martin.
"I got soaked with champagne, and for the closing ceremony, she gave me a dry one," Love said. "So I've got two. People always ask me, 'Do you still have that shirt?' I say, 'Not only do I have it, I have two of them.'"
—
DIVOTS: With his tie for 13th in the PGA Championship, Jordan Spieth went over $25 million in career earnings. He turned 23 last Wednesday. … The field average was under par for the final two rounds of the PGA Championship (69.907 and 69.337). … Of the 18 championships held at Baltusrol, 17 have been won by Americans. The exception was Willie Anderson of Scotland in the 1903 U.S. Open. … Jason Day was among five players who had all four rounds in the 60s at the PGA Championship, matching a record. There also were five players with all sub-70 rounds in 2014 at Valhalla and 1995 at Riviera. The difference? Day is the only player to shoot four rounds in the 60s two years in a row.
—
STAT OF THE WEEK: Steve Stricker has made 23 consecutive cuts in the majors he has played since turning 43.