MERKEL PARTY BACKS TOUGHER RULES ON DUAL CITIZENS IN GERMANY
BERLIN (AP) — Members of German Chancellor Angela Merkel's party voted Wednesday in favor of scrapping rules that allow the children of immigrants to be dual citizens, a call that was opposed by party leaders and met with a swift rebuke from its partners in government.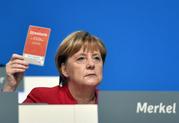 Until two years ago, German-born children of immigrants from outside the European Union or Switzerland had to pick one nationality between ages 18 to 23 – a rule largely affecting Germany's Turkish community. Merkel's current center-left coalition partners, the Social Democrats, insisted on dropping the requirement as part of their price for entering the government after Germany's 2013 election.
That was never popular with Merkel's conservative Christian Democratic Union. Delegates at a convention in Essen narrowly backed a motion from the party's youth wing that advocated returning to the old system.
Interior Minister Thomas de Maiziere had argued against the motion, noting that no potential coalition partner after next year's election would agree to it.
Wednesday's decision appears to reflect a desire among some CDU members for a sharper conservative profile. Merkel has sought to cater to that by promising that last year's huge migrant influx won't be repeated, backing a partial ban on face-covering veils and calls for tougher rules on deportation.
Merkel's party leads in polls, but would likely have to turn to one of two left-leaning rivals or a socially liberal pro-business party to form a government. It says it won't ally with the upstart nationalist Alternative for Germany, which has thrived in polls by attacking Merkel's policies in the migrant crisis and has backed conservative positions dumped by the CDU.
Justice Minister Heiko Maas, a Social Democrat, said that toughening the dual citizenship rules would be "a gigantic setback for integration." He said his party wouldn't agree to such a move.