Lady Gaga's Super Bowl appearance spurs huge digital sales
NEW YORK (AP) — The Super Bowl was a triumph for fans of the New England Patriots but it also became very lucrative for Lady Gaga.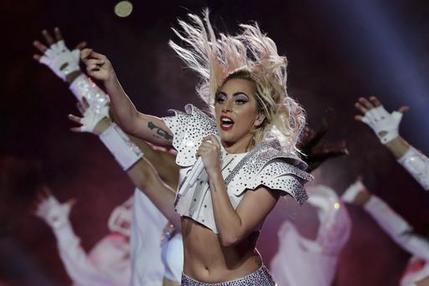 The superstar singer who performed at the halftime show sold about 150,000 digital albums and songs in the U.S. on Sunday, a 1,000 percent increase over the day before, according to Nielsen Music.
Sales of Lady Gaga's songs "Born This Way," "Bad Romance" and "Poker Face" all spiked. Her albums sold more than 23,000 downloads and she had over 125,000 song downloads.
Her best-selling song on Sunday was "Million Reasons," with 45,000 downloads – up nearly 900 percent compared with the previous day's roughly 5,000.
Music video streaming service Vevo reported that Lady Gaga's catalog got 4.7 million views globally, which was a 71 percent increase in views globally over her average views in the 28 days previous. Three Vevo videos of her Super Bowl performance have been viewed over 2 million times.