Koreans in love affair with coffee
SEOUL, Aug. 12 (Yonhap) — In South Korea, coffee was once branded as a luxury item and the main culprit of the waste of foreign currency.
Shortly after seizing power through a military coup in 1961, the Park Chung-hee government even banned the import of coffee.
Today, however, coffee has become an integral part of everyday life for people here.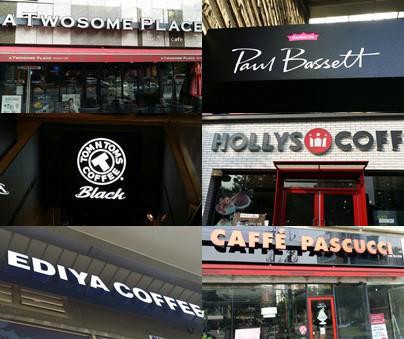 South Koreans consume coffee an average of 12.3 times a week, more frequently than the nation's staple food white rice (7 times) and main side dish kimchi (11.8 times), according to government data.
Indeed, data shows that South Korea is the world's sixth largest consumer of "cups of joe," though its population size is only the 27th largest on the planet.
The local coffee market has more than doubled to 5.34 trillion won (US$4.85 billion) in 2014 from five years earlier, SK Securities Co. said in a market report. It's estimated to have reached 6 trillion won last year.
As South Korea is even nicknamed "the Republic of Coffee" in some media, a group of local coffee enthusiasts in the country say it should be the new home of the International Coffee Organization (ICO), a U.N.-affiliated intergovernmental body of coffee exporting and importing nations.
"South Korea was once on the periphery of the international coffee market. It is now leading the global coffee industry," Lee Jae-song, secretary-general of the related private committee, said in a phone interview. "South Korea is well qualified to host the ICO's headquarters."
The ICO, which has 74 member states, is based in London, and a lease on its local office expires next year.
South Korea should first join the organization and launch a government-led campaign to host the ICO headquarters, as it's a key player in the coffee trade, Lee emphasized.
South Korea brings in coffee beans from countries ranging from Brazil and Colombia to Vietnam. It's also a major exporter of processed coffee products. Coffee is one of South Korea's most-exported processed goods along with tobacco and soda.
"Becoming a member of the ICO would be diplomatically beneficial as well, given relations with coffee-bean-producing countries in Africa, Latin America and Southeast Asia," Lee said.
For Koreans, indeed, coffee is not just about a caffeine boost. It's quite attractive socially and culturally.
Coffee has long served as a means of communication. A line routinely used by Korean men trying to hit on women on the street is "Can I have a cup of coffee with you?"
Office workers grab cups in the morning to talk about what happened last night and more after lunch. Walking to schools or offices with a cup of coffee in hand is a common sight everywhere.
Some, particularly younger people, get the feeling of enjoying a decent cup of western culture, experts noted.
"For young people, drinking coffee makes them feel like consuming the world's trendy culture," said Park Young-soon, a professor at Kyungmin University who is also head of the Coffee Critic Association of Korea.
It could be especially true for millennials, as shown not just in Korea but in China and India where tea was traditionally a preferred choice.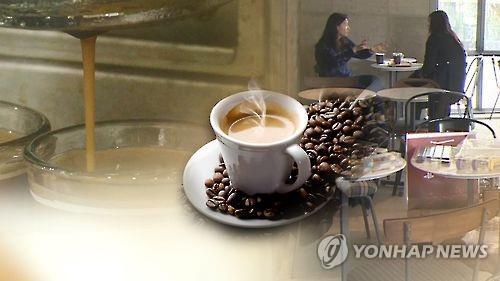 Coffee also means a moment of rest and leisure. Besides, it's addictive.
"Once you begin drinking coffee, there is no retreat," Park pointed out. "It's hard to find a case study where coffee consumption has decreased in a country where it was introduced. It's due to coffee's flavor and various effects."
There is a host of medical reports and news that coffee is healthy if drunk appropriately.
Symbolic of morning culture, it helps keep people "diligent" as well, Secretary-General Lee argues.
Many agree that Korea's love of coffee won't be short-lived and the future of the local coffee industry is bright.
"Coffee bean producers pay keen attention to South Korea as a test market because the expansion and evolution of cafes is so dynamic, plus its relatively small population consuming lots of coffee," Park said. "There is a saying that if successful in South Korea, if loved by South Koreans, the coffee can be a global hit."
Especially, South Korea is charming for high-end coffee makers as an "advance base" for entering the Chinese market, he added.
South Koreans are increasingly turning to higher-quality coffee, with the number of trendy coffee shops on the steady rise since Starbucks opened its first store in the nation in 1999. Currently, the U.S. chain has around 900 local stores and employs more than 8,000 workers.
Instant coffee mix used to dominate the South Korean market, but it only accounts for 40 percent of total consumption.
The ratio will likely go down to 30 percent in the near future, as many are shifting to fancy coffees such as espressos, lattes, cappuccinos and other hand-drip ones.
A growing number of people are also choosing "specialty" coffee made of the beans of top-notch flavor produced in certain areas.
"There are about 50 Starbucks Reserve stores nationwide specializing in serving specialty coffee," Lee Hong-ki, a spokesman for Starbucks Korea, said. "We plan to increase the number, with specialty coffee growing popular."
This season, a cup of specialty coffee sold at Starbucks Reserve, originating from Costa Rica, Brundi, Malawi, Brazil or Colombia, is sold for 7,000 won, nearly double the price of an Americano at an ordinary Starbucks cafe.
He agreed with the view that the local coffee industry will continue to expand in spite of fierce competition among coffee chains like The Coffee Bean, Caffe Bene, Hollys Coffee, Paul Basset, Ediya Coffee, Angel-in-us and Tom N Toms. The list goes on. Independent cafes are springing up on many street corners.
"We think the South Korean coffee market is still not at a saturation point," Lee said. "In addition to new consumers, some existing ones increase the number of cups of coffee they drink by one or two a day."