Korean bobsledder embraces expectations
By Baek Byung-yeul
Bobsledding is a minority sport in Korea, but Won Yun-jong hopes to use the Sochi Winter Olympics to embed it into the public's mind.
Since coming 19th in the four-man event at the 2010 Vancouver Games, Korean bobsledders have shown dramatic improvement in international events. Won, a 29-year-old pilot, emerged as the country's face of the sport during the impressive run, which has included several gold medals.
"I don't want to make rash comments about what we can do at the Sochi Olympics. But it would be a disappointment if we finished lower than 15th in the two-man event,'' said Won, who is ranked 18th in the world among pilots in the event and 22nd in the four-man event, both the highest among Asian athletes, according to the International Bobsleigh and Skeleton Federation (FIBT).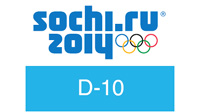 "I think our shot is good enough. It will all come down to reducing mistakes,"'
Won, who recently returned to Seoul after training and competing in North America for more than a month, added that his big picture isn't Sochi, but the 2018 Winter Olympics to be held at the Korean ski resort of PyeongChang as by then he hopes to become a medal contender.
Won is probably the unlikeliest Olympian among the 66 Koreans who booked their spots for the Sochi Games. A student at Sungkyul University in Anyang, Gyeonggi Province, he had hoped to become a school teacher after graduating.
But Kim Dong-hyun, his current teammate on the Olympic squad, introduced Won to bobsledding and he was quickly hooked. By 2010, Won was competing for spots on the national team — he barely missed the cut for the Vancouver Olympics.
Since Won began regularly piloting the Korean two-man and four-man teams, the country has been racking up hardware in international events.
Won and his partner Seo Yeong-woo won two gold medals in the recent North America Cup events in Lake Placid, New York, earlier this month.
Won and Jung Jung-jin became the first Koreans to win a gold in an international event after topping the teams of two competitions in the North America Cup event in March last year. Korea has since won five more gold medals and Won was involved in all of them.
Korea failed to send bobsledding athletes to the Olympics before the 2010 Games in Vancouver, where the four-man team of Kang Kwang-bae, Lee Jin-hee, Kim Jung-su and Kim Dong-hyun finished a better-than-expected 19th. In Sochi, Korean men and women will be competing in both the two and four team competitions.
Asked about his concerns, Won talked about the chute in Sochi.
"I think the sledding track of Sochi is good but much easier than other tracks we experienced. This means that every team will be under a smaller risk of injury. However, this also puts increasing pressure to be close to perfect with our execution because a risk could be devastating,'' he said.
"Getting off to a quick start out of the gate will be more critical than ever.''
Lee Yong, the coach of Korea's bobsledding team, agreed with Won's second point.
"Our goal is to finish top 15 in both the two and four-man competitions. This will probably depend on the quickness of our starts," Lee said.
"This team has shown great results even though the country doesn't even have a bobsledding facility. As we will take Sochi as a stepping stone to become top contender for the 2018 PyeongChang Games for now, but we will do our best at Sochi, too."