KERSHAW HELPS DODGERS BLANK CUBS 1-0, NLCS EVEN AT 1-ALL
CHICAGO (AP) — So much for October closer. With his Dodgers desperate for a win, Clayton Kershaw delivered the best start of his checkered playoff career.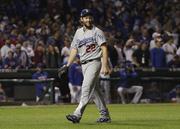 The ace left-hander pitched seven sparkling innings, Adrian Gonzalez homered and Los Angeles beat the Chicago Cubs 1-0 Sunday night to tie the NL Championship Series at a game apiece.
Kershaw retired his first 14 batters and allowed just two hits in first outing since he pitched three times in the NL Division Series, including a two-out save in Game 5 on Thursday night in Washington. The three-time NL Cy Young Award winner struck out six and walked one while throwing just 84 pitches in a brisk outing that could help when he returns later in the NLCS.
"It was one of those games where one pitch could have been the deciding factor," Kershaw said. "So, really just kind of couldn't look up for a minute for air and just kind of kept going through it and fortunate to get through it tonight."
Kenley Jansen then struck out four in two perfect innings for his third save of the playoffs. The teams combined for just five hits for the lowest total in a playoff game since the Cardinals and Pirates had four in Game 4 of their 2013 NL Division Series.
"I think that you couldn't have scripted it any better," Dodgers manager Dave Roberts said. "And it was just another fun ballgame."
Roberts almost went to Jansen with a runner on first and two out in the seventh, but Kershaw argued successfully to stay in the game. Javier Baez then hit a drive to the warning track in deep center, but Joc Pederson was there for the catch.
"He hit it pretty good," Kershaw said. "And yeah, after Dave came out and that, I kind of talked my way into it. I really wanted to – he was probably not going to trust me again after that, but, fortunately, he hit it at somebody, so it was good."
Baez's drive was one of a precious few hard-hit balls for the Cubs. Kershaw was that good.
The Dodgers needed a clutch pitching performance after their heartbreaking 8-4 loss in the series opener. And Kershaw responded with a gem that continued his reputation repair after a handful of playoff duds over the years. He was just 3-6 with a 4.79 ERA in 16 career postseason games coming into this series.
"I feel like every start he has the chance to be great," catcher Yasmani Grandal said. "It's just unbelievable to see him pitch, it's unbelievable to see him compete."
Game 3 is Tuesday night in Los Angeles. Cubs right-hander Jake Arrieta, who pitched a no-hitter at Dodger Stadium last August, faces left-hander Rich Hill.
The Cubs lost a 1-0 game in the postseason for the first time since Babe Ruth and the Boston Red Sox blanked them in the 1918 World Series opener.
"Playoffs is always about pitching and defense," said Miguel Montero, the Game 1 star for the Cubs. "Tonight we played great defense as well and we couldn't score."
Chicago, trying for its first pennant in 71 years, wasted a solid start by major league ERA leader Kyle Hendricks, who pitched 5 1/3 innings of three-hit ball in his first outing since he left his Division Series start against San Francisco with a bruised right forearm.
Hendricks' only mistake was a second-inning fastball that Gonzalez drove over the wall in left-center for his second homer of the playoffs. Gonzalez also had a tying two-run single in the eighth inning of the series opener, but Montero's pinch-hit grand slam was the big blow in a dramatic win for Chicago.
A day later, the Cubs couldn't get anything going against Kershaw.
"He kept the ball off the fat part of our bat," manager Joe Maddon said. "He threw strikes like he normally does. So despite not having rest, his command and velocity were still good."
Slumping slugger Anthony Rizzo just missed a home run with a foul drive in the fourth, and then bounced out. Baez and Willson Contreras hit consecutive two-out singles in the fifth for Chicago's first baserunners, but Jason Heyward fouled out to third.
Nothing seemed to bother Kershaw on a muggy night at Wrigley Field. After Grandal dropped a foul popup in the seventh, Kershaw responded with a wry grin, and then struck out Ben Zobrist.
"I honestly thought with him pitching with a couple of days' rest, he wasn't going to be that nasty," Baez said, "but obviously he came ready for us and he just did his job."
Jansen backed Kershaw with flawless relief. The big right-hander struck out Dexter Fowler and Kris Bryant before Rizzo lined meekly to second for the final out.
ABOUT GONZALEZ
Gonzalez became the seventh player in major league history to homer in at least six consecutive playoff series, according to the Elias Sports Bureau. It was the third go-ahead homer of his postseason career.
WHAT A RELIEF
While the Cubs struggled against Jansen and Kershaw, Hendricks and their bullpen gave them a chance. Carl Edwards Jr., Mike Montgomery, Pedro Strop and Aroldis Chapman combined for 3 2/3 innings of hitless relief.
Josh Reddick got Los Angeles' last hit of the night in the sixth, putting runners on first and second. Edwards then came in and got Pederson to hit a soft liner to second that Baez let drop before starting a heady inning-ending double play .
UP NEXT
The Cubs and Dodgers work out in Los Angeles on Monday, and then Arrieta and Hill return to the mound for the first time since the Division Series. Arrieta made one start against Los Angeles this season, pitching seven scoreless innings in a no-decision at Wrigley on May 31. Hill, a fourth-round draft pick by the Cubs in 2002, has made one appearance against his first major league team, recording two outs in relief for Boston on May 21, 2011.