JIMMY WALKER OPENS WITH 65 AT STIFLING PGA; MCILROY STUMBLES
SPRINGFIELD, N.J. (AP) — The search for another first-time major champion in the final one of the year began Thursday with Jimmy Walker at the PGA Championship.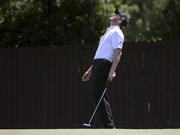 Walker had no problem with the stifling heat at Baltusrol, and he was thrilled to see some putts finally go in. It led to six birdies on his way to a 5-under 65 and a one-shot lead over Emiliano Grillo and Ross Fisher among the early starters.
It was Walker's best score in a major.
"I feel like all year it's just been real stale and stagnant," Walker said. "It's just ebbs and flows of golf. Just haven't been scoring. … It's frustrating. I would have loved to have had a better year than I've had so far to this point, but I know there's always time to play well at the end of the year."
And this would be a good place to start.
If someone like Walker were to win the PGA Championship, it would be only the fifth time dating to 1934 that the four majors were swept by first-timers.
"I don't think it's a coincidence or anything," Walker said. "They are all good players and it was just a matter of time. So just keep that rolling."
Walker mentioned being lower than usual on the FedEx Cup (No. 50), and he is No. 48 in the world. There's also that Ryder Cup at the end of the year. And with only a month to qualify, he could make up for a lot of stale golf at the final major of the year, where points are worth double.
All anyone was looking for Thursday was a good start.
Grillo, the young Argentine coming off a tie for 12th at the British Open, was at 4 under with the two par 5s at the end to play. He had to settle for par on both. Fisher birdied them both to join Grillo at 66.
Harris English, Andy Sullivan and James Hahn were among those at 67.
Defending champion Jason Day, who played only one practice round Wednesday at Baltusrol, kept it in play and made enough putts for a solid 68. It was the first time since he won the PGA Championship last year that Day started a major with a round under par.
Rory McIlroy and Phil Mickelson weren't so fortunate.
McIlroy missed a pair of 10-foot birdie putts to start his round, and it never got any better. A few poor iron shots and his inability to make anything sent McIlroy to a 74, leaving him scrambling to avoid missing his second cut in a major this year.
Mickelson had a mixture of momentum and disappointment. He was coming off that magnificent duel at Royal Troon, where Henrik Stenson beat him with a record score in the major (264). Lefty won his PGA Championship at Baltusrol in 2005, and he was cheered on in the morning, without giving much in return. He was wild off the tee, couldn't make short putts and was 4 over until he rallied for a 71 that kept him in the game.
"I was 4 over through 11 and I'm down, I'm hard on myself," Mickelson said. "The people helped to really kind of pick me back up. I remember walking off of No. 3 and a guy said, 'Hey, you've got a lot of golf left, you're not out of this, let's get going.' He's right. Got a lot golf left. I came back and made some birdies."
Stenson and the other two major champions this year, Danny Willett and Dustin Johnson, were playing in the afternoon.