ITALY, GERMAN, FRENCH EYE BEEFED UP EU DEFENSE AFTER ATTACKS
ABOARD THE AIRCRAFT CARRIER GARIBALDI (AP) — The leaders of Italy, France and Germany vowed Monday to boost joint European security efforts in the wake of Islamic extremist attacks as they made a symbolic bid to relaunch the European Union after Britain's vote to leave.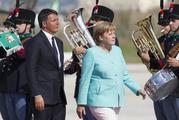 From the deck of the Italian aircraft carrier Garibaldi, which is spearheading the EU's migrant rescue and anti-smuggling effort, Italian Premier Matteo Renzi, German Chancellor Angela Merkel and French President Francois Holland also promised new economic prospects to young people – albeit without any specific proposals or details.
The three leaders travelled to the sun-soaked island of Ventotene to pay tribute to one of the founding fathers of European unity, Altiero Spinelli, and show common cause going into a bigger EU-wide summit next month in Slovakia.
Spinelli, along with another intellectual confined to Ventotene in the 1940s by Italy's fascist rulers, co-wrote the "Ventotene Manifesto" calling for a federation of European states to counter the nationalism that had led Europe to war. The document is considered the inspiration for European federalism.
Renzi invited his French and German counterparts to the island off Naples to remind Europe of its founding ideals as the EU forges ahead amid a spate of challenges, from slow economic growth to extremist violence, after Britain's vote to leave the bloc.
The three placed three bouquets of blue and yellow flowers – the colors of the European Union – on Spinelli's simple white marble tombstone before meeting for an hour privately aboard the nearby Garibaldi.
"Many people thought that after Brexit, that Europe was finished. It's not like that," Renzi said from the deck. "We respect the choice of Britain's citizens, but we want to write a page for the future."
Renzi, Merkel and Hollande all voiced support for improved internal and external defense measures, including better intelligence-sharing and beefed-up border defenses, following a spate of Islamic extremist attacks in France that have rattled Europeans' sense of security.
Renzi said such measures were an "absolute priority" for the EU going forward.
"Europe should have a framework of protection. For security we need to have borders that can be guarded," Hollande said. "We also want there to be more coordination in the fight against terrorism."
Merkel said the EU is currently facing "enormous challenges" and needed to work together especially on the security front at home and abroad.
"We feel that faced with Islamist terrorism and in light of the civil war in Syria that we need to do more for our internal and external security," she said. "Defense cooperation … should be strengthened and the exchanges between our intelligence services must be intensified."
The three also called for greater economic stimulus measures to create jobs, especially for young people, and improve investment opportunities.
For Merkel, the visit to Ventotene marked the start of a string of meetings with other EU leaders to discuss the post-Brexit EU, with visits to Estonia, the Czech Republic and Poland in the coming days and meetings with the leaders of Slovakia and Hungary in Warsaw. Merkel has also invited leaders from the Nordic countries, the Netherlands, Austria and other eastern European nations for informal meetings at a government guest house in Germany.
"She wants to support a discussion that is as broad as possible, with as many actors involved as possible," her spokesman, Steffen Seibert, said last week. That is aimed at ensuring that whatever emerges from the post-Brexit process "finds the widest possible acceptance in the member states and in the population."
Merkel has shown little enthusiasm for grandiose changes to the EU's structure, preferring to make things work better rather than embark on major structural reform. France, for its part, wants greater EU integration and Hollande is a strong proponent of joining European defense efforts as Italy wants. However the French presidential campaign is getting into full swing and is likely to unleash anti-EU sentiment.
Italy has a lot to gain from a reinvigorated EU as it copes with flat GDP, the migrant crisis and political uncertainties over a constitutional referendum this fall on which Renzi has staked his government's survival.
Monday's mini-summit will serve as a warmup for an EU-wide summit in Bratislava in September designed to chart the EU's post-Brexit way forward. It follows an initial three-way huddle by Renzi, Merkel and Holland in Berlin in the days immediately following the June 23 British referendum.
There, the three leaders pledged their commitment to European unity and plotted a common proposal to relaunch the European project focusing on three key areas: improving security, boosting economic growth and strengthening options and programs for young people.
Charting a course is difficult until Britain formally begins the exit process, probably next year, and lays out proposals for its future relationship with the EU.