IOC'S FINAL RULING ON RUSSIAN ATHLETES GOES DOWN TO WIRE
RIO DE JANEIRO (AP) — A final ruling on the entry of Russian athletes in the Rio de Janeiro Olympics is coming down to the wire.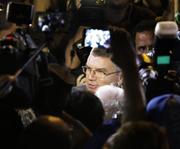 IOC President Thomas Bach said a decision will be announced later Thursday, just a day before the opening of the games, following a review of the doping records of individual Russian athletes.
The IOC asked international sports federations to decide which Russian athletes could be free to compete in Rio, following a report by a World Anti-Doping Agency investigator that detailed evidence of state-sponsored doping in Russia.
The International Olympic Committee set up a panel of three executive board members to make the final call, taking into account the advice of an independent sports arbitrator.
"We expect the final results of this panel to be ready for publication later today," Bach told a news conference. "I think this is a very thorough, strict and clear procedure. You will see then the results of this individual analysis … in order to ensure a level playing field here at the Olympic Games."
Russian Olympic Committee President Alexander Zhukov said Wednesday he expected between 272 and 280 Russian athletes would be cleared. A number of international federations announced separately Thursday that they had received the final approval for Russian entries in their events, including boxing, judo, equestrian, volleyball and golf.
Russia's track and field team remains barred following an earlier decision by the IAAF.
Bach again defended this IOC executive board's decision not to ban the entire Russian Olympic team from the Rio Games. WADA and many other anti-doping agencies had called for a complete ban after Canadian lawyer Richard McLaren issued a report that accused the Russian sports ministry of orchestrating a doping program that involved more than two dozen summer and winter Olympic sports.
Bach insisted that athletes cannot be punished for the wrongdoing of their government.
"We had to follow the rules of justice and justice has to be independent from politics," Bach said. "You cannot answer to a violation of a law by another violation of a law. This is destroying justice. We had to respect basic principles of natural law."
For him personally, Bach said, the test for defending the decision was "to look into the eyes of all the athletes."
"I can tell you during my many, many visits to the Olympic village here I have been looking into the eyes of many athletes," he said.
Bach said that McLaren's report is not final, and that once the investigation is complete, the IOC could take further action against Russians.
"We want to have full light shed on this anti-doping system in Russia," he said. "We will not hesitate to issue further measures or sanctions."
The news conference came after a three-day IOC general assembly where Bach and many members slammed WADA for its handling of the Russian crisis. They suggested the agency should have acted sooner against evidence of state-backed doping, and that the timing of McLaren's report had caused chaos so close to the Rio Games.
Bach reiterated his call for a full review of the global anti-doping system to make it more efficient and independent.
"This is a situation we do not want to happen ever again in sport," he said.