Indie duo sings of purest moments in life
SEOUL, Sept. 9 (Yonhap) — "I've never thought of us as celebrities," said Ahn Ji-young, 20, one half of South Korean rookie indie duo Bolbbalgan4.
"We are just two ordinary kids with ordinary lifestyles."
Ahn and her bandmate Woo Ji-yoon, 20, who also sings and plays bass guitar, fluttered with youthful energy and shyness throughout their interview with Yonhap News Agency on Wednesday.
The band's Korean name, "Bolbbalgan Sachungi," literally translates into "Blushing Adolescence."
"Ji-yoon takes care of the 'blushing' part and I go with the 'adolescence' vibe," Ahn said jovially, filling the room with giggles.
Woo said she is extremely camera shy when it comes to shooting music videos. She tried to minimize her part in their video for "Fight," one of the three lead songs off their debut EP album, "Red Ickle," released in April.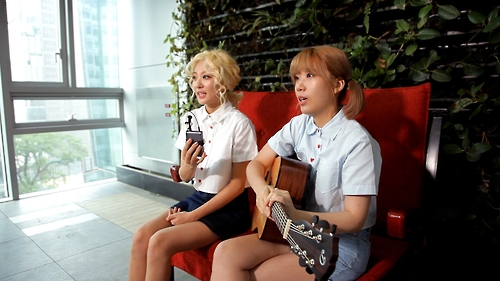 Bolbbalgan4 is a unique case for the Korean pop market. It's an indie pop duo armed with a girl group ambiance. Emulating the pure, sprite-like concept of a typical K-pop idol group, the two are fully in charge of composing and writing their songs. They experimented with different styles when they appeared three times on music competition reality show "Superstar K" from season three to five.
On the survival show, the duo impressed the audience with differently arranged covers of "What Makes You Beautiful" by British group One Direction and "Payphone" by U.S. pop rock band Maroon 5.
After the show, the duo received contract offers from multiple agencies, and chose to go with Shofar Music due to its strength in fostering singer-songwriters. The agency even gave out "songwriting assignments," free in concept and subject.
"We used to compose songs in our free time, but this assignment of writing one to two songs every week was so tough that we didn't think we could go on," Ahn recalled.
But the songwriting plight apparently paid off.
Since rolling out their debut EP, the two rookie artists were set for smooth sailing. The EP with five songs is entirely composed and written by the duo.
Four months later in August, Bolbbalgan4 released its first full-length album "Red Planet" with 11 songs, including lead song "Galaxy." The song topped the music charts of South Korea's main chart service providers Mnet and Bugs Music the day it was released on Aug. 29.
"'Galaxy' is a pretty song with a very organic structure. We even added what we thought the sound of a galaxy is," Ahn, who composed the song, said.
When asked how close they are as friends, the two looked at each other with teasing smiles.
Ahn and Woo became friends while they attended high school in Yeongju, some 230 kilometers southeast of Seoul. Supporting each other's dream to sing their own songs in public, they organized a band of four. Eager to perform in front of a large audience the quartet would crash school festivals in nearby villages, seeking candid reviews from their peers.
"Ji-young told me she wanted to become a singer and said it was top secret," said Ji-yoon, thinking back to their high school days.
Thanks to their young age, the two wrote a myriad of songs and lyrics based on their own experiences and those of their friends. Notably, Bolbbalgan4′s songs depict many common experiences that any ordinary woman can easily sympathize with.
This is ever more so with their song "Chocolate," which was written while they were in high school and used on their debut EP. Back then, Ahn and Woo had crushes on two different boys.
"Ji-yoon holds a master's degree in crushes," Ahn said, pulling at Woo's leg. "Somehow she ends up liking guys with girlfriends or who are impossible to date. Sometimes it's heartbreaking to watch," she added. According to Ahn, Ji-yoon's crush at that time turned her down and revealed the name of his own crush.
Having turned 20 in January, Woo still expressed difficulties in pinpointing her ideal type.
"I think I like the type of guy who is good at cooking kimchi jjigae," Woo said, trying to find the right words to describe her type, most likely someone who is mature, caring and loving.
Ahn was confident about her type — a man with an attractive voice — picking singer Sung Si-kyung and actor Kim Woo-bin, both who have a low, mellow voice.
Due to their young age, Ahn and Woo had to persuade their worried parents to let them pursue a career in music.
"My mother put a strong emphasis on my studies — she even came to get me when I ran off from boarding school to sing. In the end she let me go for my dreams so I could sing full time."
According to Woo, on the other hand, her mother was relatively easier to persuade.
"I told mom that chances were thin for me to go to an elite college and reminded her how I've always found my way," she said.
With rising public awareness of the band and its songs, Woo's mother became increasingly happier about her daughter's choice. Now her mother keeps telling her to make "good songs," pointing out a list of what she called great songs — some of which turned out to be trot songs that were popular among mid-aged listeners.
Both Ahn and Woo wished to give courage to young, aspiring singers who are afraid to pursue their dreams in music.
"I may not be old enough to teach anyone, but I'd really like to tell them, 'Go try whatever you want to do, except for crime,'" said Ahn.
Bolbbalgan4 were hopeful about their upcoming solo concert on Nov. 20 in Baekam Art Hall in southeastern Seoul.
In addition to singing, the duo has prepared some "fun events" that they have never shown in previous performances, however they are flexible with what they ultimately end up doing. One could be making shy Ji-yoon do a funny, they giggled.
"We wish to show you many fun sides of us, so come and visit," Ahn said.