INDIA SAYS PAKISTAN BELIEVES TERROR WILL BRING TERRITORY
UNITED NATIONS (AP) — Pakistan continues to believe terrorist attacks will allow it to obtain territory it covets in Jammu and Kashmir, India's foreign minister said Monday.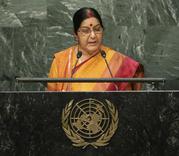 In her speech before the U.N. General Assembly, Sushma Swaraj also rejected accusations made by Pakistan's prime minister from the same podium last week that India violates human rights, calling them "baseless."
She said India has a man in custody "whose confession is a living proof of Pakistan's complicity in cross-border terror. But when confronted with such evidence, Pakistan remains in denial."
"It persists in the belief that such attacks will enable it to obtain the territory it covets," Swaraj said. "My firm advice to Pakistan is: abandon this dream. Let me state unequivocally that Jammu and Kashmir is an integral part of India and will always remain so."
Exercising her right to reply, Pakistan's U.N. Ambassador Maleeha Lodhi dismissed Swaraj's speech as "a litany of falsehoods."
"These allegations are designed principally to deflect global attention from the brutalities being perpetrated by India's over half a million occupation force against innocent and unarmed Kashmiri children, women and men in the Indian-occupied Jammu and Kashmir," Lodhi said.
She called for a full and impartial investigation of Indian atrocities and human rights violations in Kashmir.
On Sept. 18, militants slipped into an army base in Indian-controlled Kashmir, killing at least 18 soldiers. Four militants were killed in the attack, which occurred near the highly militarized line that divides Kashmir between India and Pakistan.
Indian investigators say evidence indicated the fighters were from Jaish-e-Mohammed, an outlawed militant group based in Pakistan.
Indian Prime Minister Narendra Modi has long been known for his hardline stance on Pakistan but for now he is relying on diplomacy.
On Saturday, Modi said he would work to isolate Pakistan internationally, accusing his country's archrival of trying to destabilize Asia by exporting terrorism.