HOPING KAEPERNICK GETS ANOTHER CHANCE TO TAKE A KNEE
No matter what happens when the final cuts are made, Colin Kaepernick already had the best preseason of anyone in the NFL.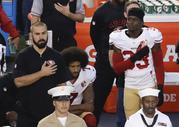 He sparked vehement outrage.
He drew steadfast support.
He got us talking.
That is America – and its athletes – at their very best.
We're not putting Kaepernick in the same league as Muhammad Ali, whose decision to not fight in Vietnam cost him more than three years in the prime of his career. Or mentioning the San Francisco 49ers quarterback in the same breath with Tommie Smith and John Carlos, who were sent home in disgrace from the 1968 Mexico City Olympics for giving a black power salute on the medal stand.
But Kaepernick is certainly following in the footsteps of those giants, who bravely protested this country's injustices even when they knew it would come at enormous personal cost.
For the past week, we've debated – in coffee shops, at work, on talk radio shows, around the dinner table – the merits of Kaepernick's decision not to stand for the national anthem before games, his way of protesting the centuries-long short end of the stick that people of color have been getting in America, especially at the hands of the so-called justice system.
Maybe you don't like his tactics, feel he is being disrespectful to what this country stands for – or, at least, is supposed to stand for.
That's fine.
This is America. You're free to express your opinions.
So is Kaepernick, who, it should be noted, wasn't up in anyone's face or being disruptive – not there's anything wrong with those tactics, either.
The biracial quarterback simply refused to stand for "The Star-Spangled Banner," a gesture that actually went unnoticed for a couple of preseason games before someone finally realized what was up.
Kaepernick, to his credit, didn't back down when called out. He explained his motives thoughtfully, saying he wanted to draw attention to the discrimination that undeniably still exists in this country and continues to hold back so many of our fellow citizens.
"We have a lot of people that are oppressed," he said after Thursday's final preseason game in San Diego. "We have a lot of people that aren't treated equally, that aren't given equal opportunities. Police brutality is a huge thing that needs to be addressed. There are a lot of issues that need to be talked about, that need to be brought to life, and we need to fix those things."
He's no longer alone, either.
In San Diego, Kaepernick took a knee along with teammate Eric Reid, who decided this was a cause worth following. So did Seattle Seahawks cornerback Jeremy Lane, who sat on the bench while the anthem was played before another preseason game in Oakland.
Once we get to the regular season, look for more and more players to follow Kaepernick's lead – even if he's only there in spirit.
You see, Kaepernick's future with the 49ers was still up in the air Friday. The once-dynamic quarterback who led San Francisco to the 2013 Super Bowl lost his starting job a year ago, and there's no guarantee that he'll get it back.
Or even make the team, for that matter.
New 49ers coach Chip Kelly has been vague on his intentions, saying only that Kaepernick will be judged like everyone else when the 53-man roster is set Saturday. Of course, it's foolish to think Kelly won't at least consider how much of a distraction it would be to keep a quarterback who has made it clear that he intends to keep pressing ahead with his off-the-field grievances.
That, in a way, makes Kaepernick's stance even more admirable. He decided to take on a much greater cause than football with his professional future in doubt, fully aware that it might affect his chances of staying with the team or, should he be cut, catching on with someone else.
"What makes an act truly patriotic and not just lip-service is when it involves personal risk or sacrifice," basketball Hall of Famer Kareem Abdul-Jabbar wrote this week in The Washington Post.
Now, it should be noted that Kaepernick's $11.9 million salary for this year is fully guaranteed, whether or not he makes the 49ers.
But his future earnings could surely take a hit.
"Kaepernick's choice not to stand during the national anthem could create a public backlash that might cost him millions in future endorsements and affect his value as a player on his team, reducing salary earnings or even jeopardizing his job," Abdul-Jabbar wrote. "If team ticket sales seriously dipped as a result, he would pay for his stance."
Invoking those giants of the 1960s, Abdul-Jabbar got to the heart of the matter.
"What should horrify Americans is not Kaepernick's choice to remain seated during the national anthem," he wrote, "but that nearly 50 years after Ali was banned from boxing for his stance and Tommie Smith and John Carlos's raised fists caused public ostracization and numerous death threats, we still need to call attention to the same racial inequities. Failure to fix this problem is what's really un-American here."
That's what Kaepernick has been saying all along.
He loves America. He just wants to make it a better place.
Let's hope Kaepernick gets another chance to take a knee.
If he does, we should all stand with him.