Government on alert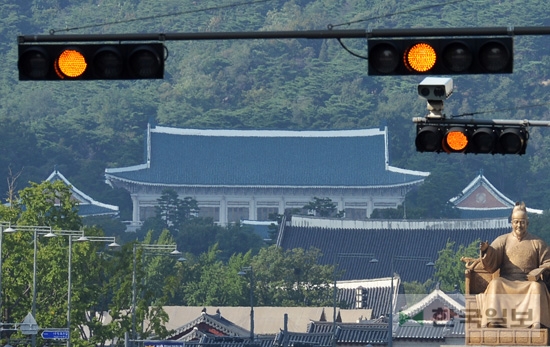 By Jun Ji-hye
The government was in close consultation with allies and neighboring countries, Friday, regarding any possible provocative action by North Korea, according to the Ministry of Unification spokesman.
The move followed the surprise announcement that North Korean leader Kim Jong-un's uncle, Jang Song-thaek, had been executed for treason.
Jang was No. 2 in the Pyongyang regime, serving as vice chairman of the North's National Defense Commission, headed by Kim.
"We have deep concerns about a series of incidents that have taken place in the North," said the ministry in a statement.
But spokesman Kim Eui-do said that no unusual behavior had been detected so far.
Cheong Wa Dae held an emergency security meeting presided over by national security chief Kim Jang-soo at 7.30 a.m.
At the National Assembly, Defense Minister Kim Kwan-jin delivered a report on Jang's removal to lawmakers.
"It is true that a serious change occurred in the North. The defense ministry will spare no efforts monitoring how the situation develops and will make appropriate preparations," Kim said. "The military will maintain its readiness posture to deter any possible provocations."
The defense ministry said later that it has stepped up surveillance on Pyongyang and is maintaining a high security level to counter any provocations, though no unusual movement in the North had been detected.
"The Joint Chiefs of Staff has heightened readiness as the North Korean military started winter training earlier this month," a senior military official said. "We have beefed up military readiness and enhanced systems to closely monitor the North's moves."
Earlier, Rep. Suh Sang-kee of the ruling Saenuri party, who is chairman of the National Assembly Intelligence Committee, said at an emergency press briefing, "Jang is presumed to have been executed by machine gun fire, considering his two confidants ― Ri Ryong-ha and Jang Su-gil ― were executed by this method late last month."
Rep. Jung Cheong-rae of the main opposition Democratic Party soon refuted Suh's comments, saying his comment was based on personal supposition, which was not credible. "Suh made such remarks under a delusion. Nothing has yet to be confirmed regarding how Jang was executed," said Rep. Jung, criticizing his announcement.
With regard to inter-Korean relations, Unification Minister Ryoo Kihl-jae said Jang's execution is unrelated to other inter-Korean issues including operations at the Gaeseong Industrial Complex.
"The two Koreas have made some agreements since the end of November. Those are being smoothly accomplished," said Ryoo in his appearance at a meeting of the Unification and Foreign Affairs Committee.
President Park Geun-hye continues to receive updates about the Jang incident from her national security aides.
Park had said in a Cabinet meeting, Tuesday, "The situation seems to be very severe. The government must not let its guard down."