GLAM ROCKERS, BABY DOLL GODDESSES: MARC JACOBS GETS TRIPPY
NEW YORK (AP) — Otherworldly goddesses? Looking-for-some-fun '90s ravers? Your basic acid trip – but a happy one?!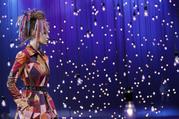 Marc Jacobs had it all at his New York Fashion Week show Thursday, including models who walked in sky-high platform kinky boots beneath hues of purple and blue, with strings of raw, twinkly lightbulbs hanging down and splotches of fake puddles on the runway.
And all, regardless of skin tone (mostly white), were outfitted with high rainbow dreadlocks to match their silvery, stripy, feathery, ready-to-roll skinny pants, baby doll lingerie, camo gear and above-the-thigh socks.
Kendall Jenner, sisters Gigi and Bella Hadid, Karlie Kloss, Jourdan Dunn, Adriana Lima – Jacobs plucked the fashion world's top models to grace his runway at the famed Hammerstein Ballroom concert hall, owned by the Unification Church.
Jacobs, who always shows on fashion week's closing day, doesn't explain his inspirations in show notes, but there were coats of many colors, to be sure, along with one gray hoodie with vertical blue, white and sand-colored stripes that appeared to have an oven on it. And there was a pair of green platform snakeskin boots emblazoned with two juice-dripping lemons that had big blue bedroom eyes.
Some fashion, like other art, is meant to be absorbed in the moment. This was one of those times. Through it all, Jacobs' craftsmanship shined through. A psychedelic collared jacket in swirls of white, purple and yellow daisies had a killer pair of thigh-high platform boots as a complement.
Jacobs was feeling the shiny metallics, in short skirts, jackets, pants, shoes, sandals, boots. And glitzy glitter, in little hard-party dresses, jackets and pants of silver, black, green, purple, pink and blue.
Not all were show pieces, intended to grab attention but not sell. Plenty were wearable and decidedly not trippy, like a basic orange-and-green wide stripe sweatshirt, collared and V-neck average folk might like. There was a short, girly denim jacket and letterman jackets jazzed up just enough with glitter.
The same goes, in the wearable department, for a patchwork leather button-down coat in red, pink, orange and light brown worn by Gigi, while her buddy Kendall wore a shiny silver and blue metallic version over a mini-dress adorned with rows of blue, purple, pink and green stars.
As for the high platforms on the feet, Jacobs did the same last season for a gothier show. This time, he brought the happy from head to toe.
On his front row: Demi Lovato, Courtney Love, Whoopi Goldberg, Christina Ricci, Tracee Ellis Ross, Zosia Mamet and Malin Akerman.