Galaxy Gear gaining popularity
By Kim Yoo-chul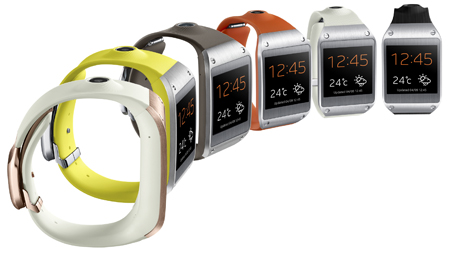 A top-level executive at Samsung Electronics said Wednesday that it has sold more than 800,000 Galaxy Gears, its first smartwatch, in the two months since its introduction.
"We have shipped over 800,000 Gears, globally. But it's too early to say whether or not the sales figure will exceed the 1 million mark this year," Shin Jong-kyun, one of the firm's co-CEOs and the head of its handset business, told reporters at its main office in Seocho-dong, southern Seoul.
The figure is based on sales to retailers, not to consumers, the company said.
While the Gear is on the rise despite some mixed reviews by analysts and technology reporters, the executive remained rather upbeat about future sales.
The impressive sales figures were driven by a strong promotional campaign for the watch.
In an apparent attempt at defying criticism about the smartwatch, Samsung has been consistent in spending more on marketing since the device's launch.
During an Analyst Day weeks ago, Shin stressed that the initial response to the Gear was above its earlier expectations and the product is a "litmus test" before its transition toward wearable devices in a real sense.
The Gear is being sold in 58 countries via major carriers. Leading technology companies including Google, Apple, ZTE and Qualcomm are all set to release smartwatches from next year, said company officials. The retail price for the Gear is set at 396,000 won.
A research firm CCS Insights expects the demand for smartwatches will reach over 100 million by the end of 2015.
Shin also told reporters that its smartphone business is on a healthy track both in sales and profit. However, the executive evaded the question of whether his business division will be able to sell over 100 million smartphones in the fourth quarter of this year.
"Time isn't ripe to talk about it," Shin said.
Data from Strategy Analytics (SA), a market research firm, said Samsung sold 88.4 million smartphones during the July-September period.