FOX NEWS CALLS TANTAROS AN 'OPPORTUNIST' IN LAWSUIT RESPONSE
NEW YORK (AP) — Fox News Channel says Andrea Tantaros is not a "victim" but "an opportunist" in its response to the sexual-harassment lawsuit filed last week by the former Fox News host.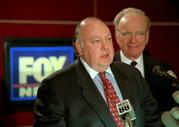 In that response, filed Monday in New York, the network asks that the case go to arbitration in what it says is in accordance with her employment agreement. The network notes that she is already a party to pending arbitration after having been suspended by Fox, which has accused her of breaching her employment agreement by writing a book without prior authorization.
Tantaros last week sued the network, its ousted chairman, and other top executives, claiming they retaliated after she detailed unwanted sexual advances made by her onetime boss, Roger Ailes.
Fox says Tantaros' allegations about sexual harassment are "a smokescreen."