Fire breaks out at Japanese consulate in Busan
BUSAN, Aug. 18 (Yonhap) — Police on Thursday made little progress on their investigation into a fire on the premises of the Japanese Consulate in the southeast coastal city of Busan as the consulate would not cooperate with them.
The fire, which erupted around 6:00 a.m. at a spot where wooden delivery boxes to the consulate are stored, blackened a wall with no other damage reported before being put out in seven minutes.
A conscripted police officer, who was standing guard in front of the consulate, spotted black smoke billowing from the wall and reported it to firefighters.
The scene of the fire is strictly off-limits to the public except for the mission's personnel.
The police, who are investigating what caused the fire, including a short circuit and the possibility of an arson attack, have yet to enter the premises 10 hours after the blaze due to the consulate's refusal to do so.
Opened in 1966, the consulate is an extra-terrestrial area over which South Korea can't exercise jurisdiction. Because of this, police are not allowed to conduct an investigation into even a fire there without the consulate's permission.
An official at the consulate said it is reviewing whether it will conduct an investigation of its own or ask South Korean police or other outside experts.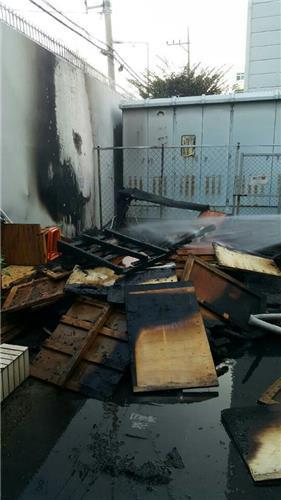 A wall at the Japanese Consulate compound in Busan, 453 kilometers southeast of Seoul, is blackened from an early morning fire on Aug. 18, 2016, in this photo provided by the Dongbu Police Station in Busan.