Finding the Next Yuna
17-yr. old Park So-Yeon and Kim Hae-jin compete to be the next one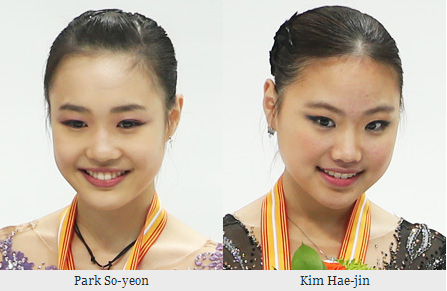 By Kim Tong-hyung
Park So-yeon and Kim Hae-jin are a cheery pair of high school girls destined for the dreaded task of succeeding one of the greatest Olympians of all time.
Figure skating megastar Kim Yu-na, the Vancouver Olympic champion who is aiming to become just the third woman ever to defend her title, enters Sochi as the undisputed face of the Olympics.
Park and Kim Hae-jin, both 17 years old, who will be competing with their childhood idol next month, don't have a prayer at Olympic hardware between them.
However, they have their eyes on the big picture, which is to keep improving and become contenders by the next Olympics in 2018, which will be held in the Korean ski resort of PyeongChang. Kim Yu-na expects to be retired by then and leave the nation anxiously awaiting a worthy heir.
Park and Kim Hae-jin, close as they are as friends, see themselves competing fiercely in years to come to fill those massive skates and are eager to use Sochi as a stage to display their potential.
At the national figure skating championships earlier this month, Park finished second with 178.17 points, nearly 50 points behind Kim Yu-na, who scored 227.86 points in her final tune-up before the Olympics. Kim Hae-jin finished third with 159.75 points and clinched the country's third and final Olympic ticket in women's figure skating.
"Hae-jin is a rival, but also a good friend. We help each other and depend on each other … We talk about the Olympics a lot, and while we are a little anxious, we expect to prepare well and do well,'' Park told Korean reporters at the Incheon International Airport on Monday before leaving for the International Skating Union (ISU) Four Continents Figure Skating Championships in Taipei.
"The goal at Sochi is to finish within the top 24 in the short program and qualify for the free skate … I think I need to reduce mistakes in my jumps and also improve my artistic impression.''
Kim Hae-jin said competing with Kim Yu-na in the same Olympics is a dream come true.
"Yu-na has been my role-model since a very young age. To compete in the Olympics with her is an honor. I hope to perform well in the Olympics and leave a good memory,'' she said.
"I need to improve on my strength, especially in the build-up before my jumps. I also didn't have much experience in big international events like the Olympics, so I am spending a lot of time in mental 'image' training.''
Park is the more athletic of the two, achieving better height and velocity on her jumps. Experts consider Kim Hae-jin as more advanced in her artistry, a natural performer who displays a personality on ice.
Nearly 100 male and female skaters from 15 countries are scheduled to compete in the Four Continent event in Taipei.