Evidence to be revealed in Righteous Brothers wife slaying
LOS ANGELES (AP) — Officials are expected to release information about how they solved the 1976 rape and killing of the ex-wife of Righteous Brothers singer Bill Medley.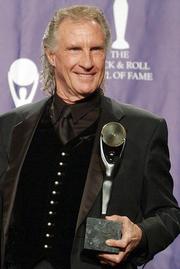 Los Angeles County Sheriff Jim McDonnell and District Attorney Jackie Lacey have set a news conference Monday afternoon to explain details about the case.
The sheriff's department said Friday that investigators identified a suspect in the death of Karen Klaas by using a controversial DNA testing technique.
It allows investigators to search databases to identify likely relatives of suspects who may have committed the crime.
Authorities have not identified the suspect or said whether they've made an arrest.
Klaas was sexually assaulted and strangled with pantyhose in January 1976 as she returned to her home in Hermosa Beach.
The 32-year-old died a few days later.