EU LEADERS LOOK AT 6 MONTHS OF REBUILDING EU DREAM
BRATISLAVA, Slovakia (AP) — Bruised and split but refusing to be beaten by Britain's planned exit, European Union leaders on Friday gave themselves one long winter to prepare a fundamental reset of the bloc to try to stave off increasing discontent and offer solutions for the multiple crises it faces.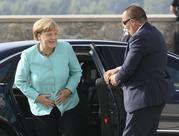 The leaders, 28 minus British Prime Minister Theresa May, committed to have a clear roadmap of the way ahead and some practical results when they meet in late March to mark the 60th anniversary of the EU founding Treaty of Rome in the Italian capital.
"Europe can, must move forward as long as it has clear priorities: protection, security, prosperity and the future of the youth," said French president Francois Hollande in a joint press conference with German Chancellor Angela Merkel.
Still, not all were in agreement. Italian Prime Minister Matteo Renzi left the summit dissatisfied, insisting not enough had been achieved on migration. His Hungarian counterpart Viktor Orban also voiced displeasure on the issue, highlighting how the leaders still have a way to go in finding a united front.
"I do not have to play in a script to show that we are united," Renzi said.
Merkel called the current situation in the EU "critical," and not only because Britain voted in June to leave the bloc. The next months would be "decisive," she said.
She noted the migration crisis and economic problems that have fed growing disenchantment with the EU among many member states. Still, she said there was a common willingness to bounce back beyond the many issues that divide and even anger individual EU nations.
EU Council President Donald Tusk agreed, calling the current mood in the EU "sober but not defeatist."
In a centuries-old castle in the middle of their fractious continent, the EU leaders anxiously sought to forge a sense of common purpose.
At the top of the agenda was how to heighten security and improve defense cooperation, secure external borders to deal with chaotic immigration and come through on measures to get the vast ranks of unemployed youth in Europe back to work.
In the joint Bratislava Roadmap, the leaders said they were determined to never allow a return to the "uncontrolled flows of last year and further bring down" the number of migrants entering illegally.
They added they would "ensure full control of our external borders."
EU Commission President Jean-Claude Juncker said the member states agreed to award 108 million euros ($121 million) in emergency funding to Bulgaria for border management at one of the most porous borders with Turkey. Other EU nations committed extra equipment and personnel.
The refugee emergency has been specifically divisive. Countries in the east – Hungary, Slovakia, the Czech Republic and others – have openly opposed proposed solutions coming out of EU headquarters in Brussels and even defied the wishes of their neighbors.
Orban has been one of the most abrasive voices on the issue, saying there should be no more "lawmaking tricks" from EU institutions, which he said circumvent the sovereign decisions and will of the nation-states on the migration issue.
The Hungarian leader said that while the EU leaders had voted for voluntary refugee resettlement quotas, the EU parliament and the EU Commission transformed them into mandatory quotas.
"I asked them not to do this anymore because the nation-states cannot accept it," he said.
Merkel said that "further efforts are needed to reach consensus on migration policy," but denied that contentious issues were left out of the discussion.
"We didn't specifically have a bilateral conversation with Viktor Orban," she said.
Added urgency comes from the fact that countries like France and Germany hold elections next year where far-right and populist parties are seeking to exploit uncertainty generated by Britain's decision to become the first country to walk out of the EU.
Hollande is under intense pressure to come with some success as he is trailing in the polls ahead of next May's French presidential elections. His far-right opponent from the National Front, Marine Le Pen, has already said she will call for an in-out referendum on EU membership if she wins.
The weeks preceding the Bratislava summit have seen an endless array of regional meetings of government leaders on how the EU should be run in the future. Divisions have emerged along geographical or ideological lines, or a mix of both.
While the EU seeks to create common cause, Europe's economy remains weak.
Though Greece may have secured its euro future last year after its third international bailout, it's still struggling to deliver on its promises to creditors. How to deal with the euro's problems remains divisive – on one-side pro-austerity countries led by Germany, on the other more socially-minded governments.
Greek Prime Minister Alexis Tsipras, whose country has been at the center of the region's debt crisis and seen the arrival of hundreds of thousands of migrants over the last year, said things cannot continue as they are.
"What Europe should not do is to continue sleepwalking in the wrong direction," he said.