ERIC TRUMP FOUNDATION FLOUTS CHARITY STANDARDS
A charity operated by one of Donald Trump's sons flouts philanthropic standards by financially benefiting charities connected to the Trump family and members of the charity's board, an Associated Press investigation shows.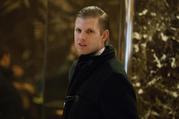 The AP found that Eric Trump has exaggerated the size of his foundation and the donations it receives. At the same time, the charity's payments for services or donations to other groups repeatedly went to one of Donald Trump's private golf clubs and to charities linked to the Trumps by corporate, family or philanthropic relationships.
The Eric Trump Foundation has raised $7.3 million mostly for children ill with cancer, according to IRS filings since 2007. The charity has long raised money from donors willing to make large contributions to hobnob with the Trumps. For example, golf at the foundation's chief 2015 fundraiser cost up to $50,000 per foursome. Donald Trump often attends these events, which include a gala dinner, and mixes with the guests and has his photo taken.
On Wednesday, the younger Trump said he'll cease soliciting donations for his nonprofit to avoid accusations that contributions could be perceived as a means to buy access to the Trump White House.
The announcement to stop raising money for the foundation followed cancellation of an online auction for "Coffee with Ivanka," Eric's sister. The auction was to be sponsored by the Eric Trump Foundation, whose proceeds generally benefit St. Jude Children's Research Hospital in Memphis, Tennessee.
Concerns about the mingling of politics, business and charity have escalated since Donald Trump's election. Eric Trump, 32, serves as an executive vice president of his father's corporate umbrella, The Trump Organization. He was active in his father's campaign for president, serving as a campaign surrogate, spokesman and senior aide. Following the election, he acted as an executive committee member of the Donald Trump presidential transition team. The president-elect has tapped Eric and his brother Donald Jr., to run the family business empire during the Trump presidency.
In addition to the hubbub about the auction for face time with Ivanka, Eric and Donald Jr. drew attention with their involvement in an offer of a hunting trip with either of them in exchange for a donation of up to $1 million to a new charity that Eric Trump was on record supporting. That offering also has been scuttled over concerns about pay-for-access.
Under IRS rules, a public charity collects money to serve a public mission. Any money passed along to other charities also needs to serve such a mission, without favor to those connected to the original charity's founder, board members, or relatives of its board. Charity boards are supposed to act as independent watchdogs. While the IRS generally gives charities leeway in the hope of encouraging public missions, a pattern of such behavior – even if the receiving charities do good work – could leave the impression that board members are trying to further personal agendas rather than public good.
Among other AP findings:
-The Eric Trump Foundation failed to report multiple conflicts of interest by supposedly independent board members who work for The Trump Organization or Eric Trump's winery, as required by the IRS.
-Based on its revenue and giving, the Eric Trump Foundation is a small-to-medium-sized charity. Eric Trump has repeatedly overstated its size. In 2015, for example, he said his group was "one of the largest foundations anywhere in the country, anywhere in the world." Told of the claim, Associate Dean Patrick Rooney at Indiana University's Center on Philanthropy said, "That's just silly."
-Though public charity boards are supposed to represent the public, Eric Trump has loaded his board with friends, relatives and Trump employees. They include two Trump company executives who served as senior presidential campaign aides: former Westchester golf club manager Dan Scavino and special Trump counsel Michael D. Cohen. The charity's executive director, Paige Scardigli, was a close college friend of Eric Trump at Georgetown University.
In 2014, at least 12 of 16 board members had personal or financial ties to the Trumps outside of the charity, records show. The foundation's board has also included Lawrence Glick, executive vice president of Strategic Development for The Trump Organization; Kerry Woolard, general manager of Eric's Trump Winery; Steven Levine, a public relations operative who helped cast Donald Trump's "The Celebrity Apprentice"; and Eric Trump's college buddies Andrew R. Graves and Andrew Joblon.
-In an extraordinary provision, the foundation's bylaws make Eric Trump chairman as long as he remains on the board. It reserves board seats for any children he might eventually have. "What right does he have to put his child on the board? It's not his private business," said Daniel Borochoff, president of CharityWatch.
-Eric Trump has falsely claimed his charity raises more money because its golf fundraisers don't have to pay for use of the family golf courses. In a 2013 promotional video, he said that "we were able to come up with this concept of raising a lot of money with really no expense," by using Trump golf clubs. Eric Trump had previously said in an AP interview that his charity has reimbursed costs of fundraisers at Trump National Golf Club Westchester. IRS documents show $881,829 paid from 2007 to 2014.
-The foundation failed to report to the IRS, as required, that it paid $100,000 to a Trump golf club in 2013, a potential conflict of interest. When asked by AP, Scardigli called the omission an "oversight."
The golf club transactions violate a pledge made when Eric Trump sought tax-free status from the IRS. The charity said it wouldn't do business with a company if any of its corporate officers also were on the charity's board; Eric Trump is executive vice president of The Trump Organization, which operates and controls the collection of Trump golf courses. Eric Trump oversees the Trump Organization's golf operations worldwide.
The Eric Trump Foundation has often claimed its fundraising benefits from significant donations of goods and services but its IRS filings show no such donations. When asked, Scardigli said the amount of donated good "considered reportable" was insignificant.
After Eric Trump's wife Lara joined her husband's charity board, her favorite groups also began receiving gifts. From 2012-2014, the foundation gave a total of $181,250 to five animal welfare groups where she had visited or volunteered. An animal welfare advocate and enthusiastic rider, she was pictured horseback riding at one of the locations, the Lucky Orphans Horse Rescue, in a 2014 Facebook posting by that group.
Similarly, the Eric Trump Foundation's largesse has landed at multiple Jewish organizations tied to Ivanka and her husband, Jared Kushner. In 2014, the foundation donated $10,000 to Chai Lifeline, a Jewish group for sick children and their families. That charity's co-chairman, Larry Spiewak, is a friend of Ivanka and her husband and attended their wedding. A Jewish community leader, he became an early and vocal supporter of Trump's run for president.
Also, there have been links between board members of the Eric Trump Foundation and Donald Trump's presidential campaign.
His father's campaign paid $14.2 million to the company of foundation board member Christl Mahfouz, Ace Specialties, L.L.C., for campaign paraphernalia. Other campaign payments went to foundation board members Scavino, Glick and Woolard.
Foundation executive board member Jerry Kaufman was paid $2,000 in rent. He is a car racer and real estate entrepreneur who served as master of ceremonies at a Trump campaign rally in July.