End of cold calling
Telemarketing losing ground as regulations tighten, negative sentiment rises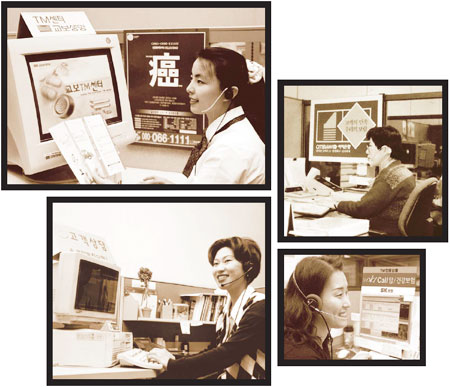 By Kim Da-ye
Until recently, Yoon, a 29-year-old software engineer living in Seoul, was getting three to five cold calls every day from credit card companies and money lenders. He installed an anti-telemarketing app called The Call on his Optimus G Pro mobile phone. Since then, his phone no longer rings when it gets calls from phone numbers registered as spam numbers in the app's database.
"It's convenient. I don't need to go through the hassle of answering the calls and hanging up," he said.
Yoon said that he wouldn't buy from telemarketers anyway because he believes many frauds and scams take place in phone transactions.
"Even if my bank calls me, I won't trust them on the phone. When it comes to money, it has to be face to face," he said.
Cold calling, or telemarketing, has been an important sales channel for some industries including insurance, credit cards and mobile telecommunications. But as more consumers like Yoon become fearful of frauds involving telemarketing and aware of the importance of protecting one's privacy, cold calling is fast losing its effectiveness.
Regulations against telemarketing
The fact that most people have mobile phones and always carry their devices makes them easy targets for telemarketers, who can contact them anytime, anywhere. It's no surprise that there is a growing resentment against telemarketing among consumers as well as regulators.
The change that has so far dealt the biggest blow to industries that rely on databases of potential and existing consumers and telemarketing is the revision of the Personal Information Protection Act and the Act on Promotion of Information and Communications Network Utilization in 2012.
When people register on websites and join membership programs of retailers, they need to provide their personal information including names, phone numbers, home addresses and e-mail addresses. They are also required to agree that the information will be kept and used by the retailers and their partners. Prior to the revision of the above acts, however, the clause that says personal information will be passed on to third parties was usually buried in the long agreement form. Therefore, some retailers were able to sell personal information to third parties that were not directly involved in the provision of goods and services.
The revision demands collectors of personal information to ask users if they agree to have their information passed on to third parties. Checking the box corresponding to this question is voluntary, not compulsory. This step has caused less information flowing into marketing and sales databases.
While the revision focuses on the protection of personal information, some regulations directly limit telemarketing activities.
In December last year, the Financial Supervisory Service (FSS) banned insurance firms from calling consumers to sell auto insurance. They can contact only existing subscribers whose insurance plans will expire soon and those who have given consent to telemarketing calls.
In the past two decades, such anti-telemarketing regulations have emerged across the world. The U.S., for example enacted the Telephone Consumer Protection Act in 1991 to restrict telemarketing calls made with automatic telephone dialing systems and prerecorded voice messages. In October this year, it updated the law, banning calls and text messages to mobile phones that use automatic dialing system or prerecorded voices without consumers' prior consent.
These regulations, however, have not deterred some companies from telemarketing. Samsung Fire & Marine Insurance has focused on marketing to consumers in person and online but planned earlier this year to start telemarketing. The company is yet to sell insurances over the phone, and local newspapers reported that the financial authority didn't block the country's largest insurer from dominating the market.
In addition to regulators, consumers have come together to block unwanted marketing calls and text messages. An example of their efforts is Yoon, an anti-spam call app. Another anti-spam call app called What is this number?, developed by a small Korean company, Evain, uses crowd-sourcing technology to build its database of telemarketing phone numbers. When users receive a cold call, it can register the number as a spam number. When users get calls from unknown numbers, their smartphones show where the calls come from and how many users have reported them.
The debates between protection of consumers' privacy and businesses' need to use personal information for telemarketing are likely to continue. The FSS decided last year that Hanwha Life Insurance breached the credit information act by using existing customers' identity information including their name, address, phone number and email address to recommend them different insurance products. Hanwha argued that telemarketing using the information was legal under the insurance business act.
Reaction
Some companies are highly reliant on telemarketing and have to find ways to survive amid tightening regulations and rising negative consumer sentiment. One way is to move away from telemarketing. Another is to try to improve their existing telemarketing system by implementing better personal information collection policies.
For example, LINA Life Insurance Company of Korea, a subsidiary of global health insurance company Cigna, achieves most of its sales through telemarketing. Last August, LINA launched LINA Financial Service, which sells insurance products face to face at physical branches as well as through hybrid channels that combine telemarketing and face-to-face selling. Benjamin Hong, the head of LINA Life Insurance, said that the company hoped to offer low-priced health insurance to consumers who prefer to deal with salespeople face to face.
Some life insurance companies have requested permission from the financial authority to sell equity-linked life insurance products on the Internet.
To collect high-quality personal information, many insurance companies often carry out joint promotions with popular online shopping malls, giving customers discount vouchers worth several thousand won in return for personal information.
While legal telemarketing is shrinking, however, illegal telemarketing is still thriving and evolving. Between January and October this year, more than 4,000 cases of voice phishing, the practice of extracting personal financial data over the phone, were reported, a decrease from 5,054 during the same period last year. The government task force against financial fraud using telecommunication channels said on Dec. 3 that although cases of voice phishing are decreasing, frauds over the phone including by scammers disguising as money lenders and theft of sensitive information from text messages continue to take place.
In June, the police in North Chungcheong Province charged a group of swindlers who ran a sham telemarketing operation and collected personal information of about 5,700 people by pretending to be financial institutions.