Divorce file: Prince, 2nd wife lived luxurious lifestyle
MINNEAPOLIS (AP) — Prince's unsealed divorce file from his second marriage shows the couple lived a luxurious lifestyle that included spending $50,000 per party after major awards ceremonies, a newspaper reported Friday.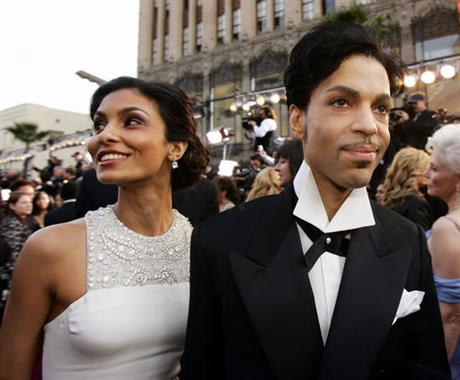 Records from the late "Purple Rain" megastar's divorce from Manuela Testolini were unsealed Friday by a judge's order. The Minneapolis Star Tribune went to court to unseal the files. Testolini objected, saying the disclosure would put her and her family at risk. Her attorney did not immediately respond to requests from The Associated Press for comment Friday.
The files show Testolini said the couple threw lavish parties after major awards shows, like the Oscars and the Grammys with Testolini hiring a $5,000-a-day stylist to do her hair and makeup, the Star Tribune (http://strib.mn/2jfWzGZ ) reported. The records also show the couple would spend $50,000 on food, drinks and decor for each party.
"We had accounts at boutiques including Gucci, Versace and Valentino. We had accounts at Saks. There was never any restriction on (Prince's) or my spending," she said.
The records also show that Prince locked Testolini out of their home in Chanhassen, which was not at his Paisley Park recording complex, in May 2005.
Prince and Testolini met when she was a consultant for his charity, Love 4 One Another, the documents showed, and married on Christmas 2001. The couple's divorce was granted in 2007.
Prince, 57, died of an accidental painkiller overdose in April. He previously was married to backup dancer Mayte Garcia.
Two years after their divorce, Testolini claimed Prince had not returned several personal items, including copies of videos he made based on two songs he had written for her, the records show. He also had not returned jewelry, including a Tiffany gold and diamond earring set, as well as photographs, memorabilia and scrapbooks. The items were valued at $185,000.
Prince was representing himself at that time and did not respond to the court.
The documents do not give financial details of the final divorce settlement. Testolini did receive a house in Toronto worth about $6 million and a Lexus automobile, the newspaper reported.