Director Hong Sang-soo attends Berlin film fest with actress Kim Min-hee
BERLIN, Feb. 16 (Yonhap) — Award-winning Korean filmmaker Hong Sang-soo attended the Berlin International Film Festival together with actress Kim Min-hee on Thursday to promote their latest film nominated in the main competition category.
It was their first public appearance after media reports of their extramarital relationship emerged last June. Neither of them have officially confirmed the reports.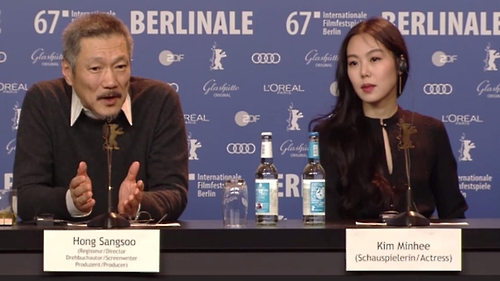 They smiled at each other while ascending to the stage for a news conference to promote "On the Beach at Night Alone" at the 67th edition of the festival that runs from Feb. 9-19.
It is the only Korean of 18 films competing for the Golden Bear award at the festival and the first Korean film nominated for the festival's competition category in four years.
Hong, clad in a white shirt and a black knit sweater, and Kim in a black dress, sat side-by-side, seriously and sometimes pleasantly answering questions from reporters.
"On the Beach" tells the story of an actress named Young-hee (played by Kim) pondering her relationship with a married movie director while drinking together with friends in a seaside town shortly after returning from a trip to Germany. It also stars Jung Jae-young, Kwon Hae-hyo, Song Seon-mi and Moon Seong-geun.
Asked if the film is autobiographical, Hong said he didn't intend to make such a film but filmmakers sometimes use parts of their lives.
He said he became interested in carrying his personal messages in films after "Right Now, Wrong Then" (2015), his first collaboration with Kim.
"She appears to be understanding how to accept true love if there is any," Kim said of her character Young-hee, giving an impression that she might be identifying herself with the film character.
When questioned if there was anything distracting her from filming, Kim briefly answered, "No, there was nothing like that. Working with the director refreshed me all the time."
"On the Beach" is to have its world premiere at the festival after a red-carpet event for the film later on Thursday.
Before the press conference, there was a press screening of the 101-minute film in a fully packed theater. It received rousing applause from the audience after the screening.
It marks Hong's 19th feature film and third foray to Berlin after "Night and Day" (2008) and "Nobody's Daughter Haewon" (2013).